Version 1.25
What Is It?
GMOgre3D is a GM port of the extremely popular open source OGRE (Object-Oriented Graphics Rendering Engine) 3D engine. Why port OGRE to Game Maker? Simply put, the 3D support built into Game Maker only supports the most very basic of 3D functionality. If you want to get the most of your 3D games using Game Maker then you need to use a 3rd party graphics library, such as OGRE.
I choose to port OGRE in particular because it's an extremely popular 3D engine that is constantly being updated and improved upon. It also has an extremely large, passionate, and active user base.
Features
Material / Shader support
Powerful material declaration language allows you to maintain material assets outside of your code
Supports vertex and fragment programs (shaders), both low-level programs written in assembler, and high-level programs written in Cg
Supports the complete range of fixed function operations such as multitexture and multipass blending, texture coordinate generation and modification, independent colour and alpha operations for non-programmable hardware or for lower cost materials
Multiple pass effects, with pass iteration if required for the closest 'n' lights
Support for multiple material techniques means you can design in alternative effects for a wide range of cards and GMOgre3D automatically uses the best one supported
Material LOD support; your materials can reduce in cost as the objects using them get further away
Load textures from PNG, JPEG, TGA, BMP or DDS files, including unusual formats like 1D textures, volumetric textures, cubemaps and compressed textures (DXT/S3TC)
Meshes
Flexible mesh data formats accepted, separation of the concepts of vertex buffers, index buffers, vertex declarations and buffer mappings
Progressive meshes (LOD), manual or automatically generated
Static geometry batcher
Animation
Sophisticated skeletal animation support
Flexible shape animation support
Animation of SceneNodes for camera paths and similar techniques, using spline interpolation where needed
Generic animation tracks can accept pluggable object adaptors to enable you to animate any parameter of any object over time
Scene Features
Highly customizable, flexible scene management, not tied to any single scene type. Use predefined classes for scene organization if they suit or plug in your own subclass to gain full control over the scene organization
Hierarchical scene graph; nodes allow objects to be attached to each other and follow each others movements, articulated structures etc
Multiple shadow rendering techniques, both modulative and additive techniques, stencil and texture based, each highly configurable and taking full advantage of any hardware acceleration available.
Scene querying features
Newton Physics
Integration of Newton Physics and collisions
Ball and Socket, Hinge, and Slider Joints
GUI
Integration of a full GUI system
Windows, Buttons, RadioButton, CheckBoxes, ListBoxes, ComboBoxes, EditBoxes, Spinners, Sliders, Menus, ProgressBars, TabControl, Multiline EditBoxes, MultiColumn Listboxes, and more!
Fully skinnable
GUI layout editor
Special Effects
Compositor system, allowing for full-screen postprocessing effects to be defined easily, via scripts if desired
Particle Systems, including easily extensible emitters, affectors and renderers (customisable through plugins). Systems can be defined in text scripts for easy tweaking. Automatic use of particle pooling for maximum performance
Support for skyboxes, skyplanes and skydomes, very easy to use
Billboarding for sprite graphics
Transparent objects automatically managed (rendering order & depth buffer settings all set up for you)
Paged Geometry
Dynamic geometry paging system, which enables infinite worlds
Batched rendering LOD for optimized rendering of near-by trees
Impostor rendering LOD for extremely fast rendering of distant trees
Flexible LOD display system, which can be expanded to display geometry with any technique you can implement
Flexible LOD configuration system, which allows you to configure any combination of supported LODs in any way you want
Optional cross-LOD fade transitions, and far LOD fade-out, fully configurable
Flexible PageLoader system, allowing you to dynamically load geometry from any source you can imagine
Easy addition / removal of trees with bit packing, allowing millions of trees to be stored in RAM using only a few MBs
Color-map support for trees, which enables you to apply terrain lightmaps to your trees with one simple function call
Animated, optimized grass rendering system. Supports density maps, color maps, wind animations, height range restriction, and much more.
Screenshots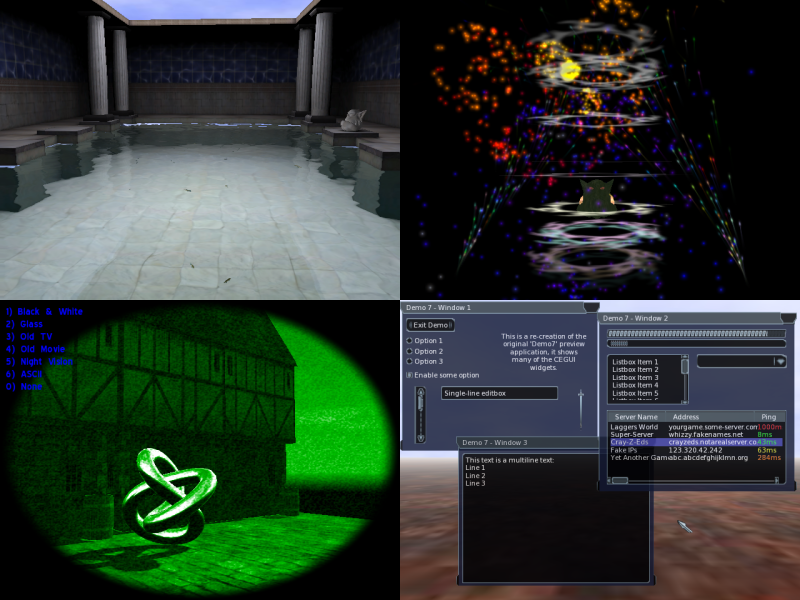 License
GMOgre3D uses the
LGPL
license, which means it's completely free to use for personal and commercial use. It also includes full source code, but if you modify the source you must make those changes available to the general public.
Documentation
All 1200+ functions for GMOgre3D are fully documented, and more tutorials are steadily being added. You can view the current documentation at the
GMOgre Wiki
. You can also look at the OGRE
documentation
and
wiki
, which is extremely helpful in learning how OGRE works.
Community Forums
Visit the GMOgre3D forums for questions, tips, and more right
here
.
Download
You can download the binary release with sample GMK projects
here
.
Source Code
You can download the full source code, including Visual Studio 8 project files
here
.
Issues
The DirectX renderer requires a version of DirectX 9 dated Nov 2008 or higher. If you get an error about a missing d3dx9_41.dll then you have an older version and need to update from:
http://www.microsoft...b1-442d8712d553
Contributers
GMOgre logo by
mauge
GMOgre font by "Baby Kruffy" @
www.dafont.com
Ogre head by
wumpus@ogre3d.org
- Houdini
Edited by Houdini, 13 August 2012 - 07:05 PM.