Model Creator for Game Maker (v5.0)
Page on Dutch GMC
Open source!
Model Creator v5 is now open source! I am not planning to make any changes to the program anymore (not in v5 at least).
Model Creator v5 by Maarten Baert is licensed under the
Creative Commons Attribution-Share Alike 2.0 Belgium License
.
This means:
You are free:

to Share - to copy, distribute and transmit the work
to Remix - to adapt the work

Under the following conditions:

Attribution - You must attribute the work in the manner specified by the author or licensor (but not in any way that suggests that they endorse you or your use of the work).
Share Alike - If you alter, transform, or build upon this work, you may distribute the resulting work only under the same or similar license to this one.
Attribution
If you want to redistribute the original or modified versions of Model Creator v5, you must include my name (Maarten Baert) and a link to
http://www.maartenba.../model-creator/
(or the url itself).
This program allows you to create 3D models for Game Maker. This is not the first version, it's just the first time I created a topic for it on this forum. Older versions can be found on the Dutch GMC:
link
.
Video tutorial on YouTube: Modeling a chair
Video tutorial on YouTube: Texturing
Video tutorial on YouTube: Basic shapes
(kake_fisk)
If you have no idea how to start, it is a good idea to watch these first.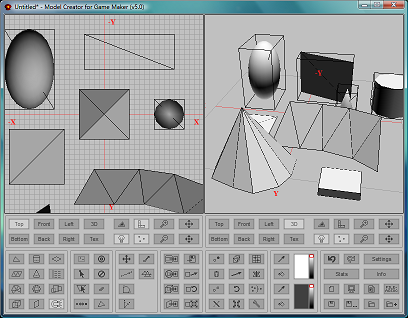 This is a screenshot of the main program. It shows the entire menu and two views.
Online documentation
The program is a lot easier to use than most professional modeling programs. It is designed for creating low-poly models (<1000 triangles) as Game Maker would slow down anyway if you tried to use models that are too complicated. However, it is perfectly possible to create high-poly models with it as well.
Statistics:
Number of scripts:
223
(dll's not included)
Lines of code:
14462
Download Model Creator v5.0 (1.80MB)
Download Model Creator v5.0 source code (418KB)
Yoyogames page
(if you like the program, please rate)
Features:
- Supports the GM model file format
- Supports File Association to open the models more quickly
- Supports triangles and all basic shapes
- Supports color, alpha and texture (with UV mapping)
- Supports lots of transformations to edit your models
- Supports undo/redo (up to 20 times!)
- Uses my calculator DLL for all user input (you can use expressions)
- Uses Max WinAPI for all popup menus
Banner:
You can put this in your signature if you like the program.

(links to this page)
[url="http://gmc.yoyogames.com/index.php?showtopic=414116"][img=http://files.maartenbaert.be/model-creator/mc-banner-small.png][/url]
Edited by Maarten Baert, 25 May 2013 - 02:27 PM.