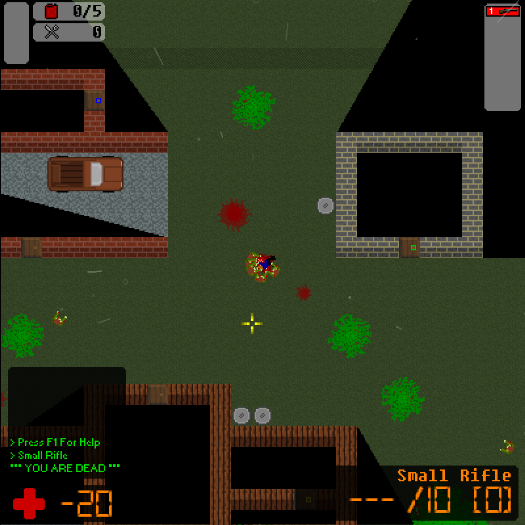 (Image from v1.1)
Genre/Category:
2D Overhead shooter.
Download Size:
5.25 MB
Game File-Type:
Stand-Alone Executable
Resolution:
Doesn't change
> Lost game files
> Found game files
> Game updated
Here's the latest version of the demo.
All kinds of suggestions are welcomed.
Download 1.3
I've included a Secret Room for demo purposes.
To access it, you must...
Changes from v1.2:
-Doors that don't just disappear, but can be closed, too.
-Nicer looking carnage.
-Food. (No use in the demo.)
-Line of sight.
I'm now working on:
-Replenishing HP between levels with previously collected food rations.
- Functional
*(Just need to be balanced after I get all the levels in.)
-Rest of the game and story.
*(Any good writers...?)
- Done
-Radio Scanner

Some of the things I need feedback about:
-Game difficulty.
-Bugs, obviously.
Edited by JTR, 29 January 2011 - 10:47 PM.