E-Browse Web Browser Control
a new experience in browsing
Version 3.x public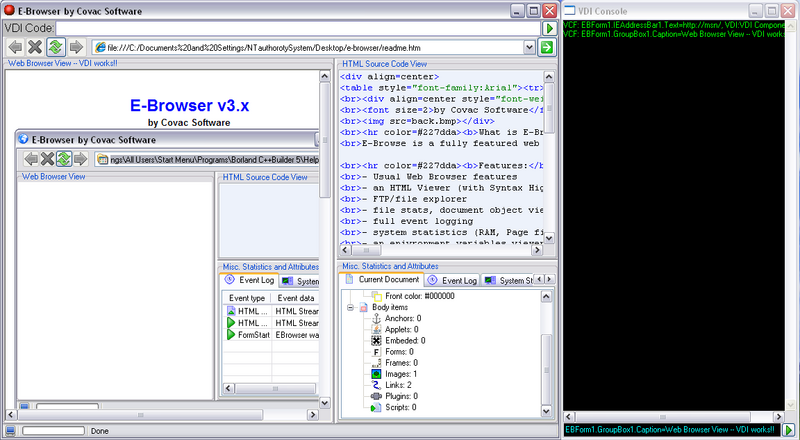 Introduction
E-Browser is a whole component made up of different components compiled in one dll. The dll can be used by most program builders that features the use of external dlls, including Game Maker 6.x.E-Browser is a multi-use user-friendly Web Browser component featuring several specialities not found in other browsers. Using VDI it is totally customizable, so you could use the component simply for normal web browsing, that is without any other feature, OR with a prefered set of features. The choice is up to the programmer.
Featured in...
+ E-Browse was featured in MarkUp magazine Issue 7, September 2007 on Page 30.
+ It is also featured on VCL Components website.
Features:
+ Graphical and user-friendly interface
+ IE Embedded browser
+ All necessary browsing buttons
+ Feature rich right-click menus
+ HTML viewer
   + Highlight HTML Syntax
+ FTP support
+ Fast, detailed file attributes
+ System statistics (RAM, Page file, VRAM and CPU speed)
+ Environment variables viewer
+ Complete logging (with log viewer)
+ custom user-agent (not functional)
+ uses VDI, next generation code for delphi dlls!
+ uses VDI Console
Downloads
Quick Credits
Microsoft:
- Internet Explorer Control
- Standard Windows Common Controls
- Memory Management WinAPI
BSalsa:
- Extended IE controls and classes
Alexey A. Dynnikov:
- CPU Usage class
Borland Corp:
- Extra controls
- Delphi 7 personal (FREE!!)
Covac Software:
- Line Grid control
- Gradient Guage control
- Virtual Delphi Interface (VDI)
- VDI Console (VCF)
Those using VDI Please read bellow:
Control tree:
EBForm1 (the form)
|-+--GroupBox1 (contains web browser)
| '--EmbeddedWB1 (main web browser)
|--ImageList1 (images in online animation)
|--ImageList2 (images in local animation)
|--ImageList3 (images in unknown animation)
|--ImageList4 (images in PopupMenu2)
|--ImageList5 (images in PageControl1)
|--ImageList6 (images in ListView1)
|--ImageList7 (images in TreeView1)
|--ImageList8 (images in PageControl2)
|--ImageList9 (images in TreeView2)
|-+--Panel1 (contains toolbar buttons)
| |--IEAddress1 (address bar)
| |--SpeedButton1 (back button)
| |--SpeedButton2 (stop button)
| |--SpeedButton3 (forward button)
| |--SpeedButton5 (refresh button)
| '--SpeedButtonGO (Navigate button)
|-+--Panel2 (whole right panel)
| |-+--GroupBox2 (contains RichEditWB1)
| | '--RichEditWB1 (HTML viewer)
| |-+--GroupBox3 (contains PageControl1)
| | '-+--PageControl1 (contains utilities)
| '--Splitter2 (splits GropBox2 from GroupBox3)
|-+--PopupMenu2 (used in IEAddress1)
|-+--PopupMenu3 (used in RichEditWB1)
|-+--PopupMenu4 (used in ListView1)
|--SaveDialog1 (used in RichEditWB1 to save data)
|--SaveDialog2 (used in ListView1 to save data)
|--Splitter1 (separates browser and right panel)
|-+--StatusBar1 (bottom panel)
| '-+-Panels
|     |--0 (location icon)
|     |--1 (progress bar) WARNING: ProgressBar1 is created at run time
|     '--2 (additional loading comments)
|--Timer1 (regulates animations and refreshes)
'--XPManifest1 (your regular XP style)
What is a...
Property
- An attribute of the particular control, ie it's width, height, left (x), top (y) caption/text, color... Use: IE to set an editbox's text Edit1.Text='Hi!'.
Method
- A method is used to do something more in-depth in code. Ex: Adding a tab, setting the parent handle or deleting a control. Use: For example to move the webbrowser control into GM you must set it's parent handle to that of GM, ie: EmbeddedWB1.SetParent(window_handle()).
Event
- Function executed when something happens, ie clicking a button executes the OnClick event. Use: For example to emulate something such as showing the user the RAM usage with GM.
Known bugs/Future fixes
- Lots of errors shown at the end of the program (due to not unloading the dll) [fixed]
- Auto Window/Browser resize [fixed]
- GM VDI label/edit box/button obscured by browser [fixed]
- HTML Edit takes up the window's focus
Incomplete/disabled features
- FTP panel
- File offline hystory file retrieval
- Document styles
- User agent
Edited by uuf6429, 18 October 2007 - 02:16 PM.