rProfiler is a tool in .dll, for REAL gamemaker developers.
EDIT (11/08):
rProfiler Markers alpha RELEASED!
Check it
here
EDIT (11/08):
rProfiler Markers announced!
Check it [url="http://gmc.yoyogames.com/index.php?showtopic=298945&view=findpost&p=2931254""]here[/url]
EDIT (05/08):
rProfiler Graphs alpha released!
Unique way to measure speed of your game, and to have visual debug.
More:
here
It shows a external windows, where you will be able to see graphical overview
and history, of most important game variables, and game speed changes.
FPS, Video Memory usage, System Memory Usage, Overall CPU Usage,
Number of Instances in GM, Number of Particles,... and of course profiling
window where
you can see which objects slows down your game
.[/b]
Latest screenshot: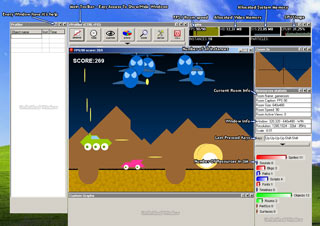 So, it's good for final testing & polishing speed of your game, or for testing your engine, in it's development stage - you can see number of non-destroyed instances, or number of system overloading particles, or your own variables, system usage, etc
It have very customizable windows, to save space on your screen.
Including rProfiler into your existing or new projects, will be just with by adding one .gml script or .gex inside your game.
Here
you can download a OLD test version (1.4MB,.zip (contains .exe and .dll))
(.gmk & .gm6 example files will be released soon)
Visit
rProfiler
homepage for newest information.
Edited by raist, 28 November 2008 - 11:14 AM.