No more using the effect_ functions!!!


By: Alert Games
->How do I use particles? And how can I design them? This program allows you to create a particle system with all of the functions available in GM6+, but it also allows you to create emitters, attractors, changers, deflectors, and destroyers. With its easy interface and random generating particles, you will be able to create particle effects and particle systems much much quicker than you can by reading the code! You can export the entire system to GML to use in your game, or take screenshots and animated GIFs. This program doesn't need to be used just for game maker, you can create nice looking effects for anything!

->Major features:
--All functions for a particle type for a single particle
--Great user interface
--All functions for the emitter, attractor, changer, deflector, and destroyer.
--Generate random particle settings
--Lock settings so they aren\'t affected by random option
--Very functional codebox for changing values while testing.
--Import a GML file
--Export the particles, a tab, or the particle system to GML
--Export the above to the clipboard
--Save and open PDSF files, which include codebox gml
--Full capability to use external sprites(not saved however)
--Take screenshots of the particle, and even save GIF animations
--Shortcut keys
--Preferences for testing and exporting particles
--Fullscreen capabilities(stretches window)
--Detailed help files to help with using the program, and putting particles into your game

Why should I download version 2.5?
O--Option to click the mouse to emit particles
O--Widened the viewing area a small bit
O--Added a Loading Sprite dialog with centering feature
O--New menu system to resolve errors
O--Added Background alpha feature as an effect
O--Added "Move all this Type" option
O--Added a comment to indicate where the particle code starts
-->Fixed emitter particle numbers in the tab
-->Fixed filename problem when using sprites
-->Fixed an error when exporting particle to clipboard
-->Now exports commented background color and alpha to load in the program
-->Changed the crash prevention to allow lower room speed than it
-->Attractor force values in multiple tabs bug fixed
-->Fixed incorrect Xmax and Ymax for the destroyer
-->Fixed bug when copying a destroyer
-->Fixed the Lock/Unlock all button
-->Fixed some dialog messages and added more help tips
-->Fixed emitter still streaming a particle if emitter is deleted
O--Added a semicolon after each function in the export
O--Help files improved
O--Added langauge support
2.5.1:
X--Removed color code tabs option
O--Added a "Destroy Off-Screen Particles" option
-->Fixed a display glitch switching to tabs in advanced mode.
2.5.3:
-->Fixed characters not being displayed for some different languages.
-->Fixed sprite loading issue.
-->Fixed other menu and loading bugs.

->VERSION 2 SCREENSHOTS: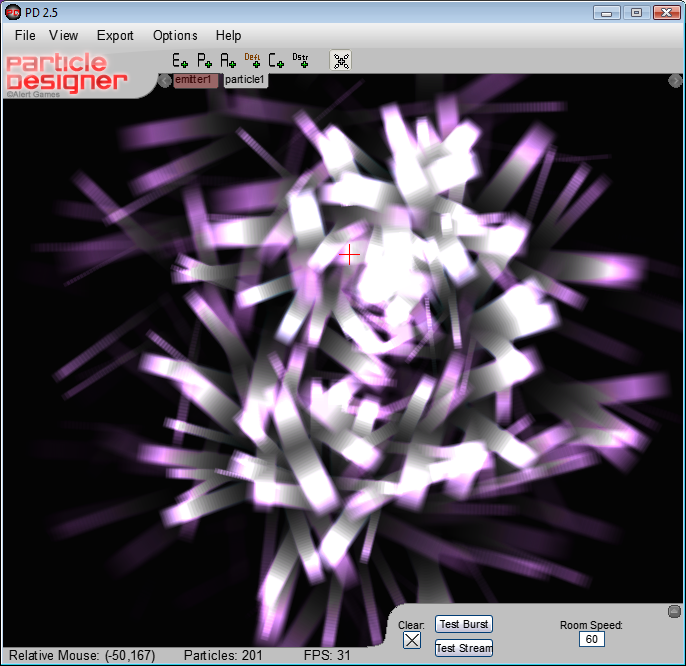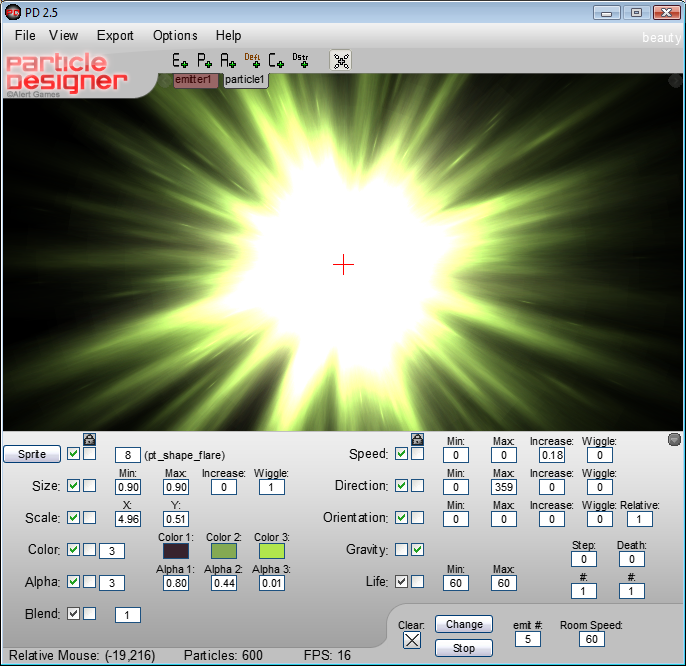 See all screenshots here

->For more information, screenshots, etc. visit these links
*OFFICIAL PD2 PAGE* - INCLUDES: updates list, FAQ, extra particles, etc.
> YOU TUBE <
HERES A VINE: VINE VIDEO
->DOWNLOADS (2.5.2):
(~3 MB) Windows 7 Compatible!
>Please extract the files before using to avoid any errors or saving issues<
(Downloads include some particle examples that you can load.)

>> Host-a.net

>> Box.net

DOWNLOAD THE LANGUAGE FILE(place the lang.txt file in the program's directory):
Download English (or here)

If you translate the file, and would like me to host that language and feature it here, please send me a PM (Personal Message).
Download Dutch
Download Swedish (Courtesy of Alfred0110)
Download Czech (Courtesy of D4rkS7der)
Download Polish (Courtesy of damian440)

Instant Play(V2.3)
download the chm file (compiled help. outdated)


If you would like to DONATE to the project, please click here!
Credit: Credit is not required for anything generated, but you may put credit as "Alert Games" if you want to.
__________________________________________________ ______________________________________________


->Known Issues/Suggestions:
-Improve import function to avoid issues with variables and not throw errors
-Improve codebox with clickable, easier functions/variables to add
-Change the PSDF file format for extended compatability, security, and reliability
-Leftover tabs when loading a new file
-Values to the third place value are not exported properly
-Buttons to easily set direction and speed with the mouse, and set others with a slider
-Allow the dimensions on the screen to be changed for Screenshots (including GIF, and maybe add AVI)
-Hotkey for show/hide the crosshair
-A less restricted number of emitters, particles and other particle system types
-Fullscreen does not keep some settings, including room speed
-Not able to have FPS over 60?
-Direction of particles can screw up with multiple particles
-Lock checkboxes don't reset for new particles
-Buttons for shifting color of the particle, proportional scale and size, etc.

->Having Trouble?
Before posting it here please check the included help files first. There is also an online FAQ, which is found HERE

->Common problems:

When I export the particle and put it in my game, it gives me an error!
Be sure that you have everything necessary for the particle to work. The particle system creation code is not exported on default. You can change this in the preferences, or just add "Sname = part_system_create();" before the particle is made. The reason for this is so unnecessary extra particle systems are created. Be sure to remove the system when you need to.
:D
My particles lag a lot when i put it into a new game
be sure to check that the particles and particle system is only created once. They only need to be called in the create event, and they can be used with multiple objects. Once you are done with the particle, you can delete the system if you need to. To stream the particles with an emitter, it only needs to be called once. But you can change the region in other events.
If there are any bugs, suggestions, comments, post them here!
Edited by Alert Games, 18 October 2014 - 12:08 AM.