Stick online is an old game maker online game. Players can fight monsters for items, gold and experience or players for glory. Dealing significant damage to a monster grants the chance of getting a random item drop, gold and experience. It's very simple but addictive if you're into the thrill of grinding for rare item drops or Player vs Player.
Stick Online used to be very popular but the server went private for donors only around 2009 and had remained so until October 2013, since then the population has spiked to around 25 at peak and 8 off peak.
The game used to attract more than 500 people a day with a peak of 200+ players in it's prime.
Download
Controls
A: Jump
S: Punch / Attack with weapons
D: Kick (while no weapon is equipped)
X: Sit to regenerate health and energy
Space: Jump
Enter: Chat
Esc: Quit
Ctrl: Interact with objects such as the store or save flags
Left/Right arrow keys: Walk
Down: Crouch (jumping while crouching enables a high jump)
Stats
Str: increases damage dealt and knockback with weapons such as the hammer
Agi: increases movement speed and jump height while crouch jumping
Vit: increases health, every 3 points grants 1 defense, every 6 points grants an extra 1 health regen while sitting
Int: increases energy, every 6 points grants an extra 1 energy regen while standing, 2 while sitting
Defense: Reduces damage taken.
Heres an example of its peak population, around 200 people in one area during a tournament after party.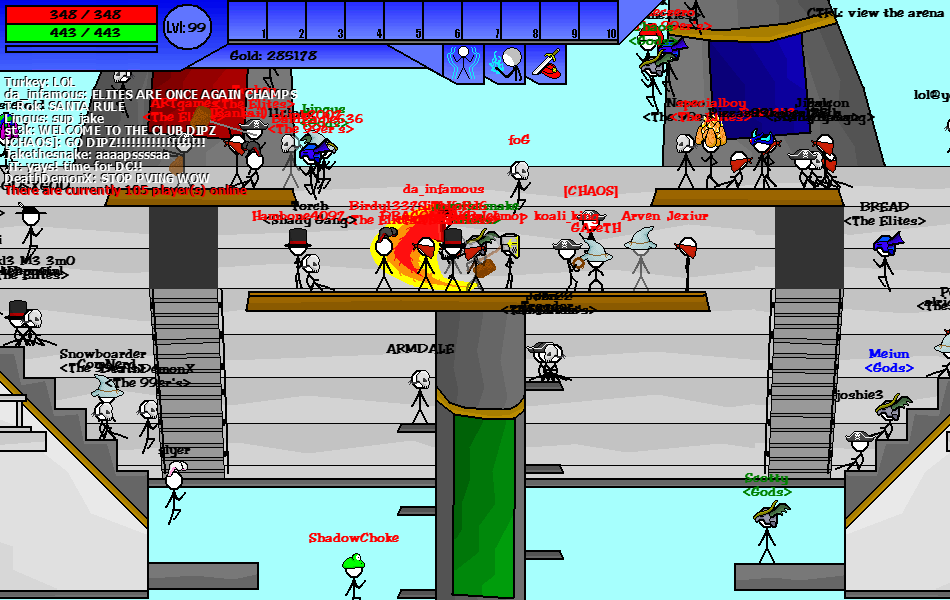 Feel free to discuss the game or ask questions