What is tile wizards?
Tile Wizards is a game in which you take on the the role of a tile wizard, who can use the powers of magic tiles to battle opponents.
Right now its just a fun little strategy game, where you get random magic tiles and use them to play against a computer who also uses random tiles.
Eventually I plan to enable the users to explore an overworld, in search of new tiles and opponents, and some sort of storyline. Tiles will also have effects that will effect adjacent tiles. And images to represent 'Spirts' that exist in the Tiles.
The player will customize their own stack of cards to use making their stack more powerful as they progress.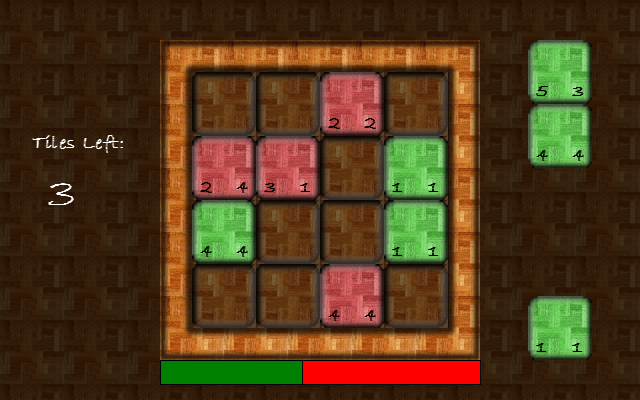 * Category: Strategy
* File Size: 2.7MB
* GM Version: GM8
* Vista Compatible: yes
* Changes Screen Resolution: no
There Are gameplay instructions provided in-game before you begin playing.
WIP Download.
Mediafire:
http://www.mediafire...y5ireay62s0spnk
YYG
http://www.yoyogames...izard---ver-0_2
Please think of ideas, tiles, or concepts to expand the game as you play the Beta.
Keep in mind you'll be making your own deck in the final version, rather then getting random Tiles like now.
known glitch:
if there is one slot left on the board. and a tile is placed there it ends the game, even if the tile opens up new slots.
Thank you for testing! ^^