Name:
Bacteria 2
Category:
Puzzle game
Size:
exe: 2.7 mb, gm6: 1.8 mb
Version:
(for source registered version needed
Resolution:
640x480
Changes Resolution:
No, press F4 to change res or F3 to scale screen
Download Link:
direct link
Screenshots:
Screenshots page
I am proud to present to you, Bacteria 2.
You are the green army. You need to destroy the red army. You can rotate a stone clockwise by left clicking on it. Even though the controlls sound simple, the game is not. It will require quite a bit of tactics before you win the game.
[EDIT 15-2-05]
Bacteria 2 is now available as opensource. This allows people to find out how the AI actually works. Please read the licence agreement with the game before using the source code
Also I have fixed several bugs within the game and made Easy AI actually easy.
Enjoy
[/EDIT]Features
Easy, normal and hard AI
Multiplayer online battles
Multiplayer hotseat battles
Arcade mode easy, normal and hard
Many unlockables
Opensource
and much, much more.
Screenshots
(click to enlarge)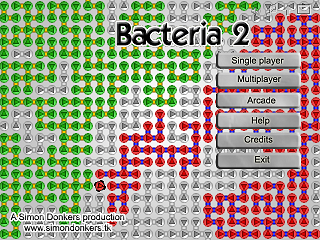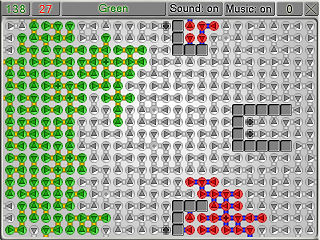 Download link
Bacteria.SimonDonkers.com
(
downloads)
Comments
Addicting, very addicting...with an incredible beginning. Almost made me think I was watching a movie
- Ablach Blackrat
Best GM puzzle game around and easily up there with the best of the non-GM and commercial puzzle games. Damn fine work. Completely professional standard.
- Wolverine
Game Maker wouldn't be the first thought on my mind if I found this from the internet, no sign of any of the common GM flaws
- Viestituote
Very fun game. I love the multiplayer! It is such an inspiration. Everything works and works well. Thank you for making it Simon. You are a great programmer
- Darthlupi
A great review by
S-Chuck
can be found at
this post
And another great review by
YoMamasMama
can be found
at GMG
(GMG staff rating for this is 8.5. That makes this the 8th best game from the over 1000 games in the archive)
Bacteria 2 has received the H Unit seal of quality
Edited by Simon Donkers, 02 July 2005 - 12:55 PM.