By Mooseknuckle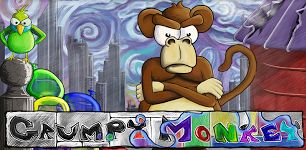 We've all gone to the zoo before, and we've all visited the monkey cage. The monkeys always look so lonely, and we often wonder what they could be thinking. We also wonder if there's an awesome app to explain this to us. Well, you can stop wondering, because MooseKnuckle's "Grumpy Monkey" does just that.
In this game you play as a monkey who, after being exposed to toxic ooze and escaping his zoo, has used helium balloons to float to the top of a skyscraper, where he watches countless "scallywags" pass by on the streets below. But he does not merely watch. The Grumpy Monkey is equipped with a variety of zany projectiles, including water balloons and bananas, to throw down upon the unknowing passersby.
As you may have guessed, frantic gameplay ensues. Not only do you have to attack the scallywags, but you also must manage your water level and balloon count. If you run out of either, you lose the game. In this way, Grumpy Monkey combines fast, arcade-like action with tycoon- style management. The two are integrated incredibly well. For example, filling each water balloon with more water makes its area of effect larger, but also uses more of your precious H2O. The gameplay is also hilarious. Watching the scallywags scurry back and forth and get soaked thrills me.
Additionally the game is very difficult. Although a randomized game, it progresses through levels, and many events occur every five levels.
However, I was only able to reach level five once. Additionally, I never encountered the "poo-flinging" mechanism that was the main focus of the trailer for this game, presumably because of my relatively small amount of progression. In this way, the difficulty works against the game's playability. Another thing that made this game hard has to do with the "guide" for throwing. In the first to levels of the game, you are given a string of dots that indicate where your projectile will land (shown below). In the third level, however, this is removed. While I understand the developers point in trying to make the game increasingly hard, when the guide disappeared I became instantly horrible at this game. Since the game relies heavily on "Combos" (hitting scallywags with every balloon you throw), my progress declined quickly after the second level. This made it less encouraging to play again when I finished a game. Despite this, there is a plethora of hats for your monkey to wear that you can unlock through specific achievements, and this encouraged me to keep trying again, even when I failed initially.
The art of this game is what truly makes it shine. It has a fun, sketchy look and you can tell that the developer spent a lot of time on this. Furthermore, this developer really pulled off the visual style. Often games will have graphics that don't have a consistent sort of look, but Grumpy Monkey's style does not change from image to image. The art of the game also matches the fun, lighthearted tone of the gameplay, which is something that many games struggle to do.
One category that Grumpy Monkey falls short in is audio. The title screen has some nice, catchy music, but during gameplay there is none. There is a bunch of fun sound effects, and although the sound effects matched the game's art style very well, these sounds without music sounded a bit strange. I found myself lowering my audio after being assailed by monkey grunts for several minutes. The music that is in the game matches the tone very well, however and the addition to music during the main game would add a lot.
After gameplay, art, and audio, the fourth major part of any game, in my opinion, is style. Style, while not as important as the other three, is a measure of how well the other three parts worked together, as well as how the game makes you feel. The style of Grumpy Monkey to me is a bit wishy-washy. On one hand, the game is very difficult, and I want to play it over and over again to beat it. On the other hand, however, the gameplay is rather slow and often feels more like a casual game. Additionally, the fun art that the developer did so well with makes the game seem more lighthearted. While playing the game, I often wonder if I'm supposed to be intensely strategizing my next move or merely throwing balloons in every direction. The developer claims in the game's description that "Grumpy Monkey is a blend of fun and easy game play, with a deep level for the hardcore gamer," but I can't help but feel that the game would benefit from choosing one or the other.
Overall, Grumpy Monkey is a really fun game, and I would recommend it to anyone looking for a cool new game for their phone. It's fairly original and is a fresh break from the Temple Run and Minecraft clones that fill today's app market. Its gameplay will keep you hooked for a long time, although its lighthearted style makes it more of a "sitting at the bus stop passing time" game.