This forum is, as of the time of writing, focused entirely too much on fragment (pixel) shaders, and is ignoring the possibilities offered by vertex shaders. This is silly, so I put about an hour into making a nice, pretty vertex shader to demonstrate what you're missing.
With that in mind, I made a
dual-quaternion skinning
shader. In simple terms, it facilitates skeletal animation without some of the artifacts caused by linear skinning.
Supports:
Customizable features. Skinning can be easily disabled, as can the tangent-space calculation, etc.
Up to 3 bones/blend weights per vertex (48 total bones possible by default).
World-to-tangent space calculations, for effects such as relief mapping.
Screenshot: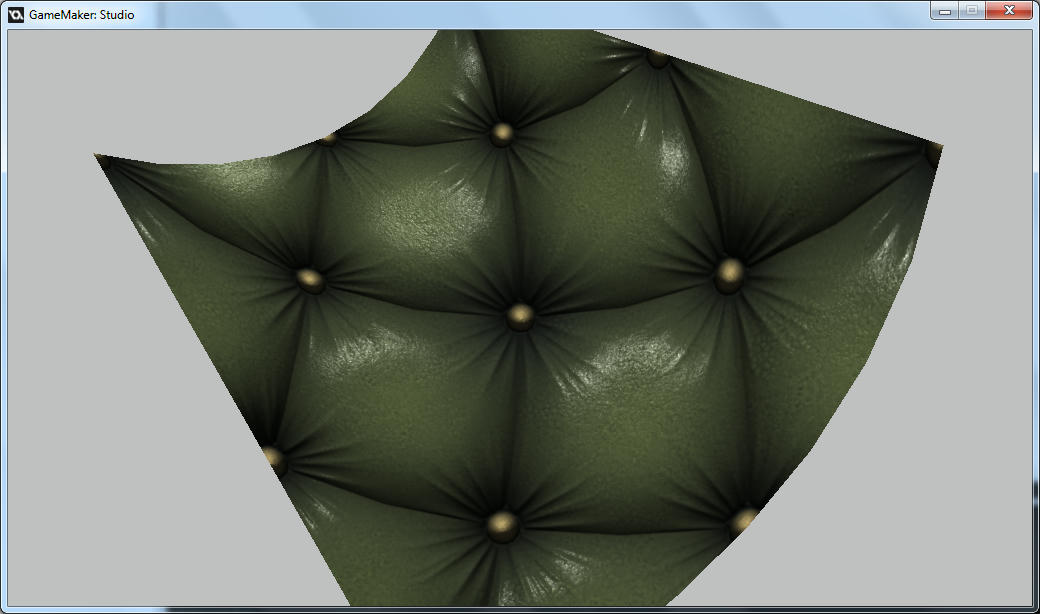 Download GMZ (10.63 MiB)
Shaders:
How to use it:
Copy the vertex shader.
Discard the features you don't plan to use. If you're not planning to use something that requires the surface's tangent-space, for example, then get rid of that part of the code.
Code your fragment shader. It could be a simple passthrough shader; it could be normal-mapping, parallax mapping, etc.
Set up the custom vertex format. If you haven't modified the way I use vertex attributes, this will be 4 4-float vectors, with component-use specified in the comments in the vertex shader.
Set up your model. Each vertex will require the vertex's position (in the neutral pose), the indices of the bones it uses, the weights of the first 2 bones (the third is defined implicitly to force them to sum to 1), and (if you've left the shader as-is) the tangent and binormal.
(Recommended) Freeze your buffer after setting up your model. If your animations are skeletal, you shouldn't need to modify your model very often.
Set up the skeleton. Create 2 1-dimensional arrays, one for the real part of the dual quaternions, one for the dual part. Fill each with the appropriate quaternions. Note: Quaternions are in xyzw format, where xyz is the imaginary part.
Pass the arrays to the uniforms u_BoneQReal and u_BoneQDual, then render.
Textures in the example are from
Kay's Blog
.
EDIT (2013-12-14): The vertex shader is now rather full-featured. The fragment shader is not complete, but has an implementation of relief mapping. When I get the fragment shader and a full example done, I'll update the demo.
EDIT (2013-12-17): Relief-mapping bug fix. Added relief-mapping demo. Fragment shader/example still incomplete.
EDIT (2014-02-06): I'm moving on to greener pastures (C++ and SDL). I've uploaded my latest version of this project, which includes a script for setting the dual quaternions; all you need to know is how to use regular quaternions, which is very basic knowledge.
Edited by Gamer3D, 06 February 2014 - 06:31 PM.