You - the monster.     The kid that needs to get scared.    The protective dad.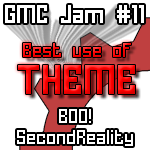 DOWNLOAD:
On the same page, you can also play the html5 version.
VERSION:
0.8.4 (updated on 8/18/2013)
GENRE:
Puzzle game!
NOTES!
This game has 8 levels with an increasing difficulty. Each room has new difficulties!
I'm working on a new version with better graphics, new levels and so on. But for now, it's already playable.
INFO ABOUT THE GAME
This game is my entry for the 11th GMC Jam.
BOO! is a game that lets you play the monster. You get a kick out of scared children, so you're looking for some.
Go to a place with a lot of kids and scare them! But don't get caught!
You'll also have to find clever ways to get the kids away from their parents... Like luring them with cute rabbits.
Some doors will only open when a pressure plate is pressed...
Hopefully you'll have fun playing the game!
P.S. I recommend playing the game until at least level 7, that's when it becomes really hard!
If you have the time, please try the game and maybe give a bit of feedback.
Reporting bugs is also appreciated.
Thanks for playing!
DEVLOG
You can read the devlog I wrote while making the game right here!
SCREENSHOTS
Edited by SecondReality, 23 August 2013 - 05:28 PM.