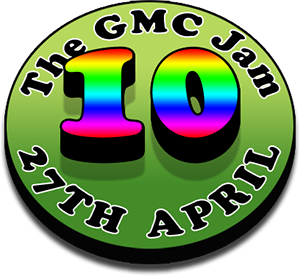 WINNER
LUNE - Rainbow Below
SECOND
NEWKILL - Eternal Chamber

THIRD
YAL - 8Bit Vomit

Full List of Final Votes Here:
ALL THE GAMES IN ONE ZIP HERE!
MIRROR: http://perilouspete....z/GMCJam#10.zip
(Thanks Dangerous_Dave!)
THEME: FOREIGN
HANDICAP: The game must solely use grayscale (black through white) and one other color for visuals
Welcome to the official GMC Jam #10 Voting Topic!
Previous Jams had the voting in the actual games topic, but since we now have a forum to ourselves the voting will now be done in a separate topic... This one! This minor change hasn't affected how things work, however, and the rules are more or less un-changed. For those of you new to the Jam, welcome and please read the rules for voting below and for those veterans out there, START VOTING!
Voting Template
You don't have to use this, but it makes my life a lot easier if you do, so please consider adding the following template to your post, even if you wish to add mini-reviews and images for your chosen games.
My votes go to

name of the game - author
name of the game - author
name of the game - author
etc...

Best Use Of Theme - author
Best Use Of Handicap - author
Best Presentation - author
Best Devblog - author
Voting Rules
You may vote for as many (or as few) games as you wish in order of preference, with 1 being the winner and all subsequent games being runners up, but please vote for at least three! Note that while we admire and respect those that play (and vote!) every game entered, this is not necessary! If everyone plays and votes for just ten or so games, the Jam is a success. The zip file that is created for the Jam comes with a game "randomiser" so that the order you play the games in does not depend on their title or creator, so we ask that you please use it!
Apart from the voting you are encouraged to post a mini-review of the winning game (and any others you feel deserve it) explaining what you liked/disliked and why you think it deserves to win... Remember, this is a Community Jam and so feedback from the community is all important! We want to know what you think! Apart from that there are a few more rules to stick to...
 
Voting will last 15 days from 00:00 Tuesday 30th April to Wednesday 15th May 23:59 GMT.
Please post your votes FIRST, before any other text or images, and preferably using the above template.
Only ONE post per person (this is flexible but you MUST PM me for permission first). Any further conversation about a given game can be held in the Jam topic or in the topic of the game itself (if it has one). Any posts breaking this rule will be removed.
Your top three games MUST BE ACCOMPANIED BY A SHORT REVIEW and posts with no reviews of at least the top three games will be considered <void> at the time of counting.
If you are reviewing the games over the course of the 15 day voting period, use the <EDIT> button to add to your post, rather than post twice.Constructive criticism is fine, but comments like "This game sucks" will not be tolerated... so think before commenting! If your reviews are extensive or use images, please encase them in [spoiler] tags.
Please vote for at least YOUR TOP THREE GAMES, although you can vote for as many as you like (and every vote DOES count!) Please also vote for "Best Use of Theme", "Best Use Of Handicap" , "Best Presentation" and "Best DevBlog"
NO talk of cheating in the Jam topics please. If anyone has any doubts about a post or a vote, then please REPORT the post or PM me with your thoughts and action will be taken accordingly.
So that's it I think... Take your time to play as many games as possible, but don't feel pressured to play them all, and we shall see you all here again in fifteen days time to see who has the honour of being the Jam winner this time around!

Good luck to everybody and thank you all so much for participating!!!!

Nocturne