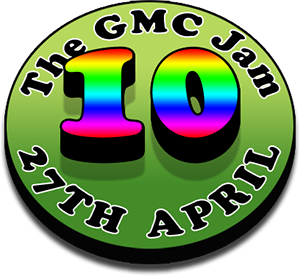 WINNER
LUNE - Rainbow Below
SECOND
NEWKILL - Eternal Chamber

THIRD
YAL - 8Bit Vomit

Full List of Final Votes Here:
THEME: FOREIGN
HANDICAP: The game must solely use grayscale (black through white) and one other color for visuals
Countdown Clock
The smell of spring is in the air (at least in half the world) and that is enough to bring a twinkle to the eye of many a person... The primal urge to CREATE is upon us and so to help all you hormone high kiddies get over it, we present to you the Great GMCJam #10!!! This time around the Jam will run from Saturday 27th of April through Monday 29th and will be 72 hours dedicated purely to game development. So, take note and get ready, because it's nearly time to get jammin'!!!

WHAT IS IT?

The Jam is a community event that we organise to encourage people to experiment with GM and make something that will be interesting or entertaining within the limited timescale of 72 hours.
 

WHEN IS IT?
Competition officially Starts Saturday 27th April (but hype usually starts up on Friday before midnight when the theme is announced)
72 hours long from 00:00 GMT Saturday 27th ...to... 23:59 GMT Monday 29th
THEME
Each jam has a theme, and participants are very much encouraged to use it
This jam has a handicap too and you are also encouraged to use it
Using the theme is NOT obligatory, nor is using the handicap, but using either will be valued when voting and using BOTH gets extra Kudos!
To encourage use of theme, the highest-voted theme-based game gets to choose the theme for next Jam.
The theme will not be revealed until just before the start of the Jam to prevent any advantages.
VOTING
All games are eligible (themed and non-themed and with or without handicap), but voters should take "use of theme" into account. Remember: non-theme games can win, but they CANNOT pick the next Jam's theme (see above).
Voters choose 1st, 2nd and 3rd place as well as three special votes to "Best use of theme", "Best Presentation", and the "Best Devblog".
It is OBLIGATORY that when voting you leave feedback about WHY you voted for the game(s) you chose, even if it's only a few lines to say you loved the game idea or whatever. Failure to do so may result in your votes being removed.
It is NOT obligatory to play nor review all the games! Honestly, when dealing with so many games, it is a difficult and sometimes daunting task to play through all of them and then vote. So don't do it! Play as many as you feel comfortable with and then vote for which of those that you liked, leaving comments and feedback where possible. Don't worry, the SSE voting system that we use will compensate. If everyone does this then all games WILL get played, and have feedback, which is what this is all about, and I'd prefer to see 5 quality reviews accompanied by five votes to 60 votes and no reviews.
In order to encourage friendly community spirit, we ask that members not vote for their own game and please refrain from asking friends/family to do so if they are not part of this community. This has happened before and if you are found out your game may be removed from the Jam.
Any form of cheating will result in the instant removal of your game from the jam and being blacklisted for all further community events.
PARTICIPATING
All games must be original creations specifically for the Jam, but you may use whatever resources you wish to complete the game: EG. dll, scripts, sprites and sounds etc etc etc...
You may submit as many games as you wish, but only the highest rated game in the final vote will be eligible for winning any prizes.
Games must be posted in the Official Games Topic before the finish deadline for the Jam, and posting a topic in the Games (or WIP) forum here at the GMC is recommended if you want feedback and opinions as the Games Topic is ONLY FOR POSTING GAMES. Hosting is up to the individual user. You may also include and update a development log in your official games topic post.
The Official Games Topic must contain a link to your game and a short description.
HTML5 Games are permitted, BUT MUST HAVE DOWNLOADABLE .EXE VERSION posted in the Official Games Topic.
People are welcome to use any outside sites, and are also welcome to promote such sites, but the posting of topics and the voting will be done on the GMC.
Teams are encouraged and can be organised by you with whomever you wish or you can participate in a random team (see below for more details)
PRIZES
The Community Prize will be as before... A special graphic/banner, bragging rights and (if your game is a themed game) the possibility of choosing the next jam theme.
Prizes will also be offered as members of the community contribute whatever the feel appropriate. EG: Coverage on their web site, custom graphics for the game, a video of the gameplay for YouTube...anything!
PRIZE LIST

These are prizes kindly and very generously offered to us by GMC members. Donate your time/experience/whatever to this community endeavor! If you wish to add a community prize (game reviews, advertising etc...) please send a PM to Nocturne and I will add it to this post.

PLEASE DO NOT POST YOUR COMMUNITY PRIZE IN THIS TOPIC AS WE MAY NOT SEE IT! 


Try not to let all of the prizes dominate 1st, 2nd, and 3rd place (but please do not reward last place!).

You may choose who gets your prize including: competitors, reviewers, winners of specific categories, or even the best development log!
Snail_Man

: The 1st, 2nd, and 3rd winners will appear in his next jam game. Most likely as Easter Eggs, but possibly as main character. (He'll PM the winners after they've been announced to see what they'd want to look like in a game. If they don't answer, he'll be forced to get creative.)

TerraFriedSheep

: Will write a review of the winning entry in the Reviewer's Choice forum.

@Alex@

: Will give promo codes for both Pebbles and Meteor the Second Impact on iOS for the top three placed games.

True Valhalla

: Would like to give away a copy of his book Making Money With HTML5 to his three favorite entries.
darkwalker247: Will create a boss adaptation of the main character or villain of the game that comes in first place, for his upcoming game "Iridescent Bloom", and will give a "Firefall" beta key to the best-looking (in his opinion) game that comes in a place that is a prime number.

AhmedElyamani

: The person who creates the best game (in his opinion) will be allowed to design a totally new object for the new version of Pop the Bubble: the ultimate unblock challenge!

orange08

: Will write a poem about whichever game he wants to (so it won't necessarily be for his favorite entry, it might instead be for the most poetic entry or some random shizzle).

Dangerous_Dave

: 10th place gets "Monday Night Combat" on Steam, 15th place gets "Wanderlust: Rebirth" on Steam, Best Review (in his opinion) gets Bioshock 2 on Steam. He will also give a copy of "Dota2" on Steam to anyone who requests it, so long as they place a vote in the Jam (disallowed voters become ineligible, limited to first 18 requests, request must be made after Jam has ended and votes have been tallied to be sure vote is not disallowed)

TheUltimate

: Offers a surprise. She is going to try something different this time and make a prize tailored specifically to her favourite entry. She won't know what it is until she starts, and you won't know what it is until you get it!

NAL

: Will give the person with the lowest UNIQUE place a copy of "Cart Life", the IGF Grand Prize 2013 winner

.

MonkeyMaw

:

Will give $30 to first place, $20 to 2nd place and $10 to third place to go towards any games purchased via Steam.

King Tetiro

: Is offering to make a side quest NPC out of the main character in the game he considers to be most creative in graphic appearance (This will be for the next "Legena" game, "Union Tides"). He's also offering the "Loyalty Codes" in "Union Tides", which unlocks hidden content you wouldn't normally be able to unlock, to 3 games he considers to have the "Best Story/Background".

Lukasmah

: Is offering a review and a banner to the playable game that gets the last place. That means, if a game is not playable he will go up the list until I find a playable one.

newkill

: Will give to the creator of his favorite entry among the Top 5, $10 worth of RP for "League of Legends", or give a game of your choice as a gift on Steam (maximum value $10).

11clock

: Would like to offer a free copy of the full version of "Earth Overclocked" to his favorite entry (when it's released of course). The game is an action roguelike with minimal RPG elements and it has a big focus on combat and weapon variety.

HayManMarc

: He will make Fan Art for the game with the best DevLog game presentation (in his opinion).

Desttinghim: He would like to offer to create fan art for the game that wins Best Presentation.
We're hoping for plenty of community prizes, so please be generous!


Looking For A Team

If you are looking for a team mate or wish to be part of a random team, PM Nocturne to add your name below:





Support Banners

Please add a support banner to your forum signature.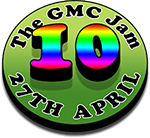 Edited by Nocturne, 18 May 2013 - 09:22 PM.