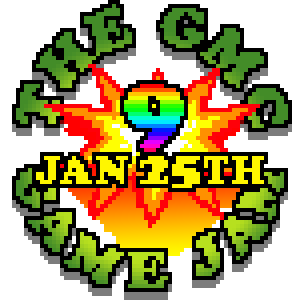 THEME: SCIENCE GONE WRONG
HANDICAP : MUST NOT CONTAIN HUMANS NOR HUMANOIDS
Countdown Clock
http://gmcjam.thegmc.com/
Its a new year and although some say the number 13 is unlucky, it obviously isn't because the world didn't end and the GMC Jam is back! Excellent stuff, and I personally am exceptionally pleased that the community keeps supporting this endeavour every three months and has made it such a worthwhile experience... Now the time is upon us for the
GMC Jam #9,
which runs from Friday
25th
January through Monday
28th
and will be 72 hours dedicated purely to game development. So, take note and get ready, because it's nearly time to get jammin'!!!
WHAT IS IT?
The Jam is a community event that we organise to encourage people to experiment with GM and make something that will be interesting or entertaining within the limited timescale of 72 hours.
WHEN IS IT?
Competition officially Starts Saturday 26th January
72 hours long from 00:00 GMT Saturday 26th ...to... 00:00 GMT Tuesday 29th (See this post for help!)
THEME
Each jam has a theme, and participants are encouraged to use it!
This jam has a handicap too and you are also encouraged to use it!
Using the theme is NOT obligatory, nor is using the handicap, but using either will be valued when voting and using BOTH gets extra Kudos!!!
To encourage use of theme, the highest-voted theme-based game gets to choose the theme for next Jam.
The theme will not be revealed until just before the start of the Jam to prevent any advantages.
VOTING
All games are eligible (themed and non-themed and with or without handicap), but voters should take "use of theme" into account. (Remember: non-theme games can win, but they CANNOT pick the next Jam's theme; see above)
Voters choose 1st, 2nd and 3rd place as well as three special votes to "Best use of theme", "Best Presentation", and the "Best Devblog".

It is OBLIGATORY that when voting you leave feedback about WHY you voted for the game(s) you chose. Failure to do so will result in your votes being removed.

In order to encourage friendly community spirit, we ask that members not vote for their own game and please refrain from asking friends/family to do so if they are not part of this community.
Any form of cheating will result in the instant removal of your game from the jam and being blacklisted for all further community events
PARTICIPATING
All games must be original creations specifically for the Jam, but you may use whatever resources you wish : EG. dll, scripts, sprites and sounds etc etc etc...
You may submit as many games as you wish, but only the highest rated game in the final vote will be eligible for winning any prizes.
Games must be posted in the Official Games Topic before the finish deadline for the Jam, and posting a topic in the Games forum here at the GMC is recommended if you want feedback and opinions as the Games Topic is ONLY FOR POSTING GAMES. Hosting is up to the individual user. You may also include and update a development log in your official games topic post.
The Official Games Topic must contain a link to your game and a short description.
HTML5 Games are permitted, BUT MUST HAVE DOWNLOADABLE .EXE VERSION posted in the Official Games Topic.
People are welcome to use any outside sites, and are also welcome to promote such sites, but the posting of topics and the voting will be done on the GMC.
Teams are encouraged and can be organised by you with whomever you wish or you can participate in a random team (see below for more details)
PRIZES
The Community Prize will be as before... A special graphic/banner, bragging rights and (if your game is a themed game) the possibility of choosing the next jam theme.
Prizes will also be offered as members of the community contribute whatever the feel appropriate. EG: Coverage on their web site, custom graphics for the game, a video of the gameplay for YouTube...anything!
PRIZE LIST
These are prizes kindly and very generously offered to us by GMC members. Donate your time/experience/whatever to this community endeavor! If you wish to add a community prize (game reviews, advertising etc...) please send a PM to Nocturne and he will add it to this post.
PLEASE DO NOT POST YOUR COMMUNITY PRIZE IN THIS TOPIC AS WE MAY NOT SEE IT!
Try not to let all of the prizes dominate 1st, 2nd, and 3rd place (but please do not reward last place!).
You may choose who gets your prize including: competitors, reviewers, winners of specific categories, or even the best development log!
We're hoping for plenty of community prizes, so please be generous!
Looking For A Team
If you are looking for a team mate or wish to be part of a random team, PM Nocturne to add your name below:
TheLegend
(looking for programmers, musicians or designer)
Support Banners
Please add a support banner to your forum signature.
Banner 1: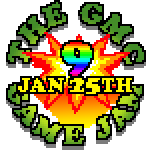 Banner 2:

Edited by Nocturne, 01 February 2013 - 02:26 PM.