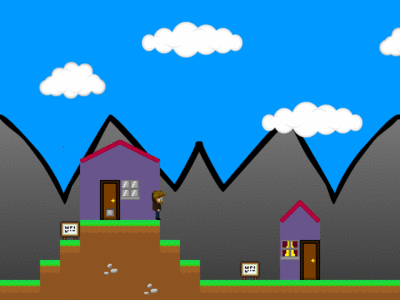 What is Dream State?
Dream State is a game made in just 72hours for the pc during the Game Maker Community Jam #6. The theme for the competition was "Two Worlds" and it had to include a cutscene.
My intial thought after seeing the theme was: dreams. We all have two universes or worlds that we exist in. One in which we sub-consiously control everything. We can be anyone. Do anything. The sky is the limit. And then there's the other world, the real one where we are stuck in jobs and in which we have to conform to all sorts of standards we don't really want to.
This is just a short extract of my Devlopment Log (Which you can view
here
), in the game the rules are simple, solve problems in the dream word with the occasional help of the Real World using the amazing StateChanger5000™
Controls
Mouse:
left button - put item into the inventory
right button - throw item away from the inventory
Keyboard Keys:
R - restart the room incase you get stuck
D - return to the level select room
Arrow Keys - move
Enter - enter the level using the correct door
Right Click StateChanger - to flick between Real Life and DreamWorld
*If you need to see the cutscene for voting purposes simply walk upto the cutscene door and press "enter"*
Links for the game:
Game Website
Download the Game (PC - WIP)
GMC Jam Games Topic Post
Note: Even if your browser says the game

could

be dangerous its because its a .exe so please ignore and

keep

the file so you can play!
Thank you for downloading/viewing this topic. I will leave you with one final peice of advice:
It is a sad day when someone can not dream anymore, for without dreams we are nothing. They keep us going from day-to-day. They are our retreat when the world is just too tough. No matter who you are, no matter where you are; Never forget to dream.
Ps: DONT FORGET TO VOTE FOR THE GAME!
Edited by Fireball16, 30 July 2012 - 09:53 PM.