You can now play the HTML5 version of Morph Worlds in your browser!
... is a GMC Jam #7 entry made in 72 hours. The theme was "2 Worlds", and the restriction was "Your game must have at least one cutscene.". (Download at bottom of post)
This game achieved 2nd place in the 7th GMC Jam!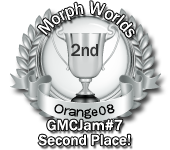 GMC Jam 7 Games topic post.
Screenshot:
Controls: Mouse - player movements, Escape - Exit to menu/exit game, R - restart level.
Downloads: Host-A, Yoyogames
-orange08
Edited by orange08, 06 February 2013 - 03:55 PM.