Tileset Champion
Tileset Champion allows you to generate buffered tilesets from your existing tilesets. These buffered tilesets allow for you to scale your tiles or view without those nasty seams. See Mike's tech blog entry
here
for more information.
Simply launch Tileset Champion, select your existing tileset, and enter the values you would enter into GameMaker for your tileset. The Buffer Size setting allows you to set the amount of buffer or smear around each individual tile. Click Generate Tileset and you can save the newly generated tileset to the location of your choice. It will even display the new values to enter into GameMaker for your new tileset.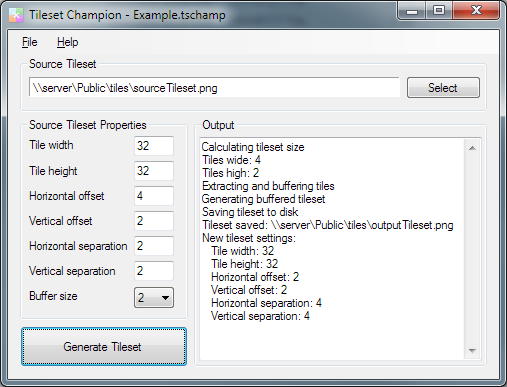 Before

After

The output file leaves out separation between tiles to keep the width and height of the generated tileset down to try to keep the size of the tileset from ballooning too much to make sure you have as much room as possible in your texture sheets. Plus, while separation might be nice when editing your tilesets, it really isn't necessary in the generated tileset you will be using in your project.
Just keep in mind that the room's GMX file stores the location of the tiles relative to the time they were added. So if you already tiled a room, then replace the image in your current background, the tiles will not display properly unless the new offset/separation values match those of the old ones.
You can also save your tileset settings and then load them later so that you can generate an updated tileset as you add modify your tiles or add new ones without reentering the values.
Download here
Requires .Net Framework 4.0
If you have any questions or suggestions, let me know.
Edited by scurvycapn, 14 July 2012 - 09:39 PM.