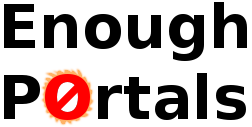 Description:
It's a platformer and it has portals! The idea in mind was combining the basic Portal game mechanic with game play elements from
N
. This game was made for the GMC Jam 6. Due to real life circumstances I didn't have as much time as I would have like working on it. Ultimately, I consider this more as a tech demo than a game.
If you happen to like it anyway feel free to vote for it in the
GMC Jam Voting topic
Link:
Download
Controls:
WASD to move, mouse left/right to shoot the portal gun, space to restart a level.
Music:
Pista 4.0 by diego7PRO
Special thanks to GMLscripts. Those geometric functions were a lifesaver!
Edited by ziggler1, 01 May 2012 - 01:00 AM.