GMC Jam Nº6
(The Spring Jam)


THEME: TRANQUILITY
Yes, ladies and gentlemen, we have a winner of the Jam!!!
Congratulations!!!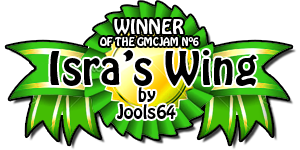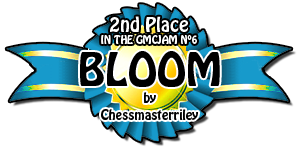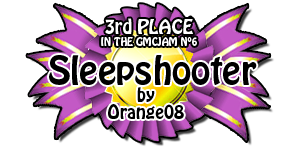 Well done to all who participated and congratulations go to the top three who all thoroughly deserve their places!
Theme Chosen By True Valhalla
Handicap Chosen By Ziggler1
Include one or more achievements to unlock within your game, separate from the main goal or objective.
(thanks to Zeddidragon)
(Created By ShadowLink)
The GMC jam is now more than a year old now, cementing its place as a tradition on our beloved forum. You'll tell tales of this event for years to come! Join the
GMC Jam #6
on
Saturday 28th
April through
Monday 30th
for 72 hours of game development awesomeness. There will be prizes, awards, and lots of girls. So join us!
WHAT IS IT?
The Jam is a community event that we organise to encourage people to experiment with GM and make something that will be interesting or entertaining within the limited timescale of 72 hours.
WHEN IS IT?
Starts Saturday 28th April
72 hours long from 00:01 AM GMT Saturday 28th ...to... 23:59 PM GMT Monday 30th
THEME
Each Jam has a theme, and participants are encouraged to use it!
This Jam has a handicap too and you are also encouraged to use it!
Using the theme is NOT obligatory, nor is using the handicap, but using either will be valued when voting and using BOTH gets extra Kudos!!!
To encourage use of theme, the highest-voted theme-based game gets to choose the theme for next Jam.
The theme will not be revealed until just before the start of the Jam to prevent any advantages.
VOTING
All games are eligible (themed and non-themed and with or without handicap), but voters should take "use of theme" into account. (Remember: non-theme games can win, but they CANNOT pick the next Jam's theme. see above.)
Voters choose 1st, 2nd and 3rd place as well as three special votes to "Best use of theme", "Best Presentation/polish", and the "Best Devblog".

It is OBLIGATORY that when voting you leave feedback about WHY you voted for the game(s) you chose. Failure to do so will result in your votes being removed.

A special "Best Reviewer" prize will be awarded by Nocturne to the person that writes the best review (or reviews) in their voting post.
In order to encourage friendly community spirit, we ask that members not vote for their own game and please refrain from asking friends/family to do so if they are not part of this community. Or chance will sarcasm them to death...
Any form of cheating will result in the instant removal of your game from the Jam and being blacklisted for all further community events
PARTICIPATING
All games must be original creations specifically for the Jam, but you may use whatever resources you wish : EG. dll, scripts, sprites and sounds etc etc etc...
You may submit as many games as you wish, but only the highest rated game in the final vote will be elligible for winning any prizes.
Games must be posted in the Official Games Topic before the finish deadline for the Jam, and posting a topic in the Games forum here at the GMC is recommended if you want feedback and opinions as the Games Topic is ONLY FOR POSTING GAMES. Hosting is up to the individual user.
The Official Games Topic must contain a link to your game and a short description.
HTML5 Games are permitted, BUT MUST HAVE DOWNLOADABLE .EXE VERSION posted in the Official Games Topic.
People are welcome to use any outside sites, and are also welcome to promote such sites, but the posting of topics and the voting will be done on the GMC.
Teams are encouraged and can be organised by you with whomever you wish or you can participate in a random team (see below for more details)
OFFICIAL PRIZES
The Community Prize will be as before... A special graphic/banner, bragging rights and (if your game is a themed game) the possibility of choosing the next Jam theme.
Prizes will also be offered as members of the community contribute whatever the feel appropriate. EG: Coverage on their web site, custom graphics for the game, a video of the gameplay for YouTube... Whatever
ADDITIONAL PRIZES
These are prizes kindly and very generously offered to us by GMC members. Donate your time/experience/whatever to this community endeavor! If you wish to add a community prize (web hosting, game reviews, advertising etc...) please post in this topic and I or Nocturne will PM you.
Current prize pool value: $420
To conclude, and again steal from Nocturne: "
Remember everyone, the aim of the Jam is not to win, but to participate, experiment, and have as much fun as possible!
"
We're looking for lots of community prizes this time, so use your imagination and contribute to the GMC Jam #6
IF YOU ARE LOOKING FOR A TEAM MATE OR WISH TO BE PART OF A RANDOM TEAM PM TRUE VALHALLA OR NOCTURNE AND YOUR NAME WILL BE ADDED TO THE LISTS BELOW :
Looking For A Team :
Ysmor
- programmer
Simaster48
- writer/co-designer
PS: The guys over at
64Digits
are hosting an RPG competition right after this Jam ends :
So if you are all thirsting for something more to get those creative juices running, you could do a lot worse than click the image above which will take you to their site where you can read all about the rules and things...
Updated by True Valhalla and Nocturne