UPDATE: I've added a one player training mode against a computer ai so you can enjoy the game without a friend. He can be pretty challenging, check it out. Please check this game out, I put alot of time into it and theres only been one download so far
This game has self absorbed blobs, giant explosions, ninja flip action, guns, swords, missles, explosions, bombs, soda machines, more explosions, and a 3rd player god mode.
You need to see this game in motion to truly appreciate it.
This game is small in scale but theres a good bit of depth to it when you get down to it.
I'd like to balance it out as much as possible so please give me some feedback on weapon damage or cheap deaths.
I don't plan on adding too much more to this game other than more levels, better controls and joypad support, and a few more obstacles but I'm totally open to suggestions.
My friends and I have been playing this all night and having a blast, hope you enjoy it as much as we do.
It helps alot if you have at least one game controlller but not all are supported yet.
Customizable controls and more arenas in on the way.
Game Basics

Destroy your opponent while avoiding obstacles to win.
Your health will slowly regenerate over time
You can jump in air an ulimited amount of times
Use Flipping to decend and jumping to ascend
Red Bombs and explosions are deadly
Blue bombs and explosions will only push you back
Thrown weapons deal heavy damage
Soda machines will distribute weapons or effect the environment
Greedy will not harm you...
Bats willl harm you
Game Tips
Use Obstacles to your advantage
Greedy will not damage you but will take your weapon away from you
Enemies can be used to block attacks, keeping you safe
Missles are deadly for you and your opponent
Thrown Weapons cause heavy damage and are key to victory and defence
Baseballs cause no damage unless pelted back at your opponent
Advanced Tactics
The green pistol will cause blue explosions keeping melee weapons at bay
A thrown melee weapon is usually easier to hit with than a pistol
The easiest way to block a thrown weapon is with another thrown weapon
You can also swing at the other persons thrown weapon with a melee weapon
Grab a red bomb and attack for a kamakazi attack, counter this with long range attacks
Fliping is the fastest way to get around and a great way to dodge, use it often
If your low on health try dodging around missles or summoning alot of greedys to use like a shield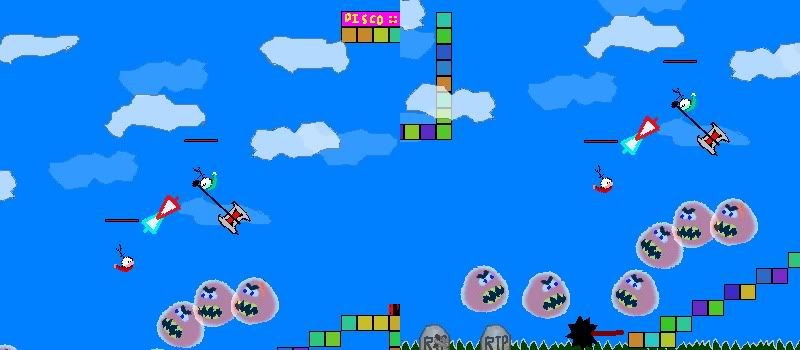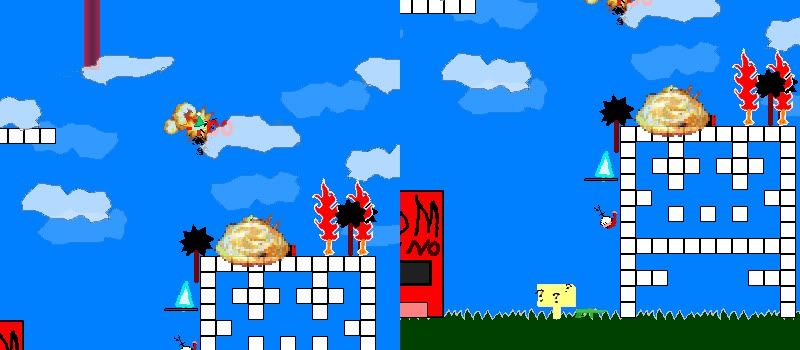 Edited by fox in a box, 26 February 2012 - 10:52 AM.