Hello there!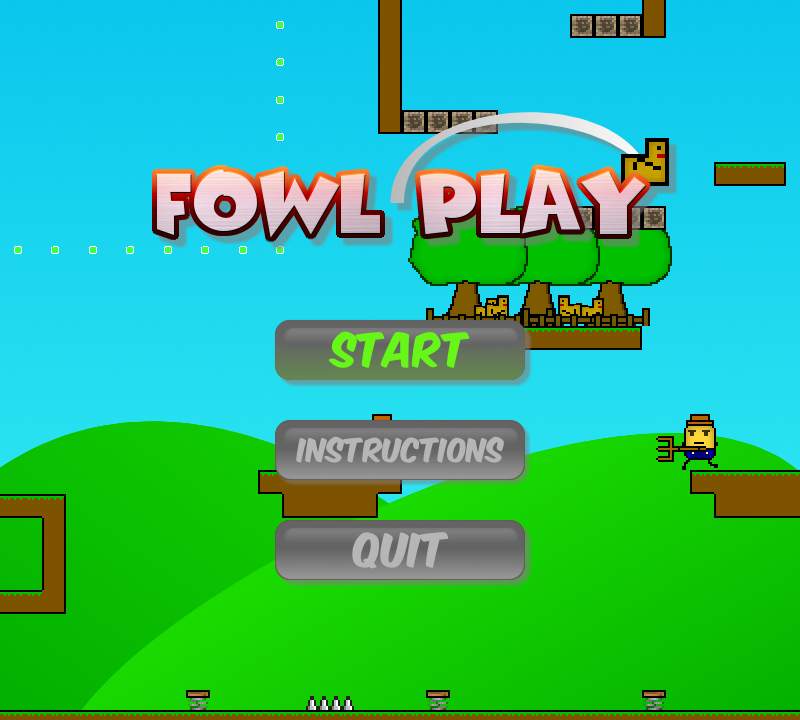 "Fowl Play" is a project my friends and I have been working on for about the past 3 months on and off. Here is a playable version of the game, but still under progress.

****FOWL PLAY ****
Fowl Play
is a fun platformer where you play as a purple character whose goal is to satisfy the hungry snake. To do so, he must traverse the level in search of chickens, which will be guarded by farmers, surrounded by spikes, or any number of obstacles. Once he has these chickens, he must carefully throw them into the mouth of the moving snake.

GAME INFO
Name: Fowl Play
Genre: Arcade-Platformer
Size: 10.9mb
Resolution: 800x720
Forced Resolution: No
Vista Compatible: Yes!
TO PLAY:
The game is controlled exclusively with the keyboard.
-Arrow keys navigate the menus and "Z" selects. "Esc" can access a menu at any time.
-Left and right arrow keys control the character.
-Up and down arrow keys aim
-"Z" throws the chickens
-"X" jumps
SCREENSHOTS:
Screenshot 1
Screenshot 2
Screenshot 3
Screenshot 4
Screenshot 5
Screenshot 6
RAVE REVIEWS:
"I love this game it is soo fun" - faissialoo
"Haha this is really amazing . . . I've never seen this concept before and its very promising" - Dylan 93
LET ME PLAY ALREADY
Edited by jonesguy14, 19 February 2012 - 12:33 AM.