Hexapolis
Made by Maarten Baert and Wout12345.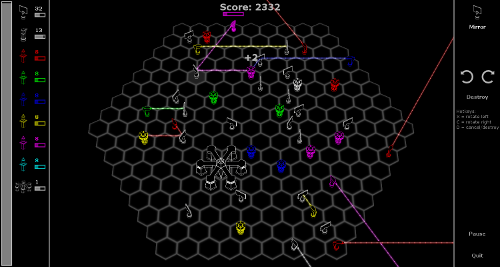 Click to enlarge
The goal of this game is to collect energy by guiding lasers from emitters to receivers. But receivers will only accept lasers with the correct color. You have to work as fast as you can, because the game ends when you can't collect energy fast enough anymore. The longer you survive, the more difficult the game becomes. The game was designed to allow experienced players to complete the easy part of the game very fast, so (hopefully) it won't become boring.
The game uses 3D graphics and a hexagonal grid. Most things can be done with just the mouse, but experienced players can also use both the mouse and the keyboard to save time.
Download (2.48MB)
Yoyogames page
Have fun!