Category: Arcade, platformer, shooter
File Size:
GM Version: GM7, GM8
Vista Compatible: yes
Changes Screen Resolution: no
Download the tech demo!
Please tell me if you experience any major issues with the game within the first 10 or so levels. The rest I know are failures.
For testing purposes atm you press Q and E to switch rooms, E is next room / Q is previous room
If you run into an error, you should be able to ignore it and the game will go on.
There are roughly 10-12 levels that are just test levels.
Most levels contain about one enemy each so I could test them out (not all enemies have their own room yet)
But at least now there is a demo that can be play tested again.
Also you can press F4 to view the achievements, this button will likely change in the release.
Current issues I'm aware of:
The player sprite isn't correctly drawing at all times, sometimes two sprites are being drawn when only one should.
Dying to Anti-Atom will crash the game because the player does not exist so his arm has nothing to point at, therefor it crashes. Easily fixable.
EarthWyrm collision is a little ****ed up, they aren't colliding properly with solids at the moment.
When lava touches a tree the entire game slows down because of all the fire being created, because fire touching a tree also creates fire; so it's creating things it collides with whoops.
PLEASE SUPPORT MY GAME AT INDIE-GOGO
Features:
- Destructible terrain
- Procedurally generated trees/atmosphere
- Secret and random events occur based on the emergence of the player
- Dynamic sound scapes
- 20+ Achievements (and counting)
To-do list:
- Make some solid actual levels
- Figure out some puzzles based around the central destruction mechanic
- Create some bosses
- Find musician(s)
Most recent youtube video
Controls:
E - Unlock Doors/Use
WASD - Move
Neutral keys - Grab
W or Spacebar - Jump
Hold S+Direction - Ride Creature
Hold A or S - Wallslide
Wallside+Jump - Walljump
Left mouse button - Shoot
Hold right mouse button - Throw Grenade[/right]
2011
Lava
2011
Tree Wind + Fist Boss
and
Final Bossv1
2010 shop and weapon upgrades
2010 atmosphere has been achieved
2010 new destruction system
2010 re-make video (new enemies and effects)
2009 dev video (old levels)
2009 early prototype video (fail destruction)
Objectives of the game:
Generally survive
Destroy terrain as needed
Collect keys to unlock doors and chests
Complete levels with event based grading
Collect points/currency to upgrade weapons
This was the first game maker project I ever made.
Recently I decided to re-write my project from scratch after nearly two years since I starting playing with Game Maker.
The intent of this game was to create a hectic platform shooter;
Where destroying terrain was both a strategy, defense, and general way of getting around the levels.
Destructive terrain acts as a good puzzle system in terms of using the terrain to your advantage.
The whole game aims to be a
Random juxtaposition
Destruction = Creation
Most graphics I'd consider still pretty "placeholder" not sure if I will be making the terrain have textured tiles, or just keep it silhouetted like it is.
The player controls a corrosive gun, capable of destroying most anything it touches.
He also has grenades which he can throw at a controlled velocity. (this replaced the old missile)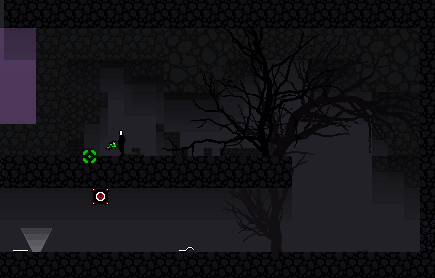 Creatures included so far:
Chain chompah
(attached to starting position)
Moving turret (horizontal movement)
Static hidden turret (pop-up and shoot)
Missile turret (homing missile towards player)
Floating swarm (fly around the player/avoid water)
Drill Pig
(breaks through bricks)
Colt
(mountable - walks across danger tiles)
Vermes (random spawn - breaks through small bricks)
Foawr (fall brick - elevator)
Phish
Slug (explodes and releases gas)
Monopods (jump around and hop over small gaps)
Regen Wall (regenerates walls around it's self)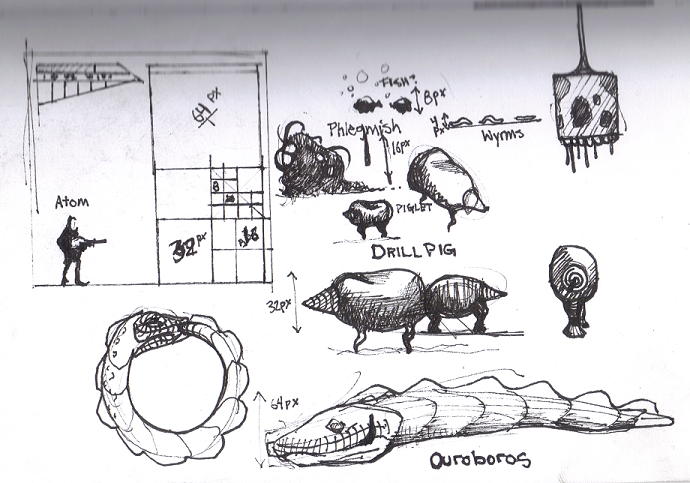 Enemies planned:
Laser beam enemy (shoot small laser)
Grenade throwing enemy (throw grenade towards player)
Wall and Ceiling climber (obvious climbs around) aka Phlegm
Platform jumper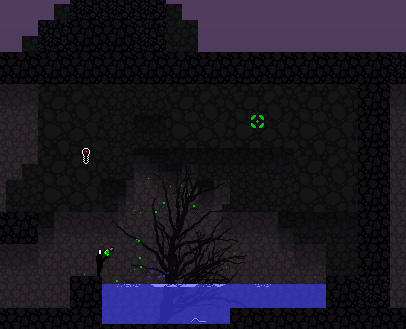 Credit is always due where needed
Radnom Games - Platformer engine (Grabbing)
2d Destructible terrain found on GMC Forums
Edited by Punky, 24 August 2011 - 10:43 PM.