The Legend Of Bob is a 2-d side-scrolling platformer, my first serious attempt at a game. I'm looking for play testers to really get an idea of if this game is enjoyable or not, or if I'm just bias since I'm the one working on it. It's been about a year since I've done anything with Gamemaker, my old computer spontaneously decided to quit powering on so 0.26 is mostly a lot of alterations from 0.24 (since that's the last back up .gmk file I had). However, it's coming along and I'm having fun building on it.
Version: Gamer Maker 8.1
Size: 7.00 MB
Fullscreen: Windowed mode at start, but you can toggle back and forth.
Plans for 0.28:
+The first fantasy clique dungeon is underway: the Icy Abyss! Because everyone loves sliding, getting smacked by hail, and no platformer is complete without some under water stages! Enemies in this area are weak to fire based attacks (surprise), and they love to freeze Bob with their numerous Icy (cold... numbing... come on adjectives) blasts.
+ Snee, the Helpful Monkey has returned and will be popping up in maps to offer up less useless advice then usual!
+ Fixed the room wrapping problem at 2nd boss. Kinda forgot to get rid of it when the boss was killed. (Sorry playtesters!)
+ Fixed the text right before stage one. After numerous tests it finally dawned on me that I forgot the R in Introduction.
Version 0.27: Complete!:
0.27
First boss video:
Updates:
+ 2nd boss added.
+ Status effects now show time and effect over the hp bar. In case anyone was curious how long the poison lasts.
+ Fixed a ton of death glitches - player had a habit of not spawning the Restart sign.
+ Fixed the boomerang bug where it bounced around the player for a few seconds.
+ 10 more rooms of fun fun fun.
+ Double jump boots now obtainable.
+ Playtesters have informed me that it'd be helpful if I ever mentioned that double tapping left or right lets the player run. Whoops!
Version 0.265
Version 0.265
Updates:
+ Lots more content.
+ Updated character outfit, added some color to him.
+ More Npcs to talk to and slap around
+ Intro text changed
+ Monster hit damage now displayed along with immune status if any
+ Hearts show how much hp you get back when you pick them up
+ Main Menu actually has music for once
+ Lowered volume on sound effects - all two of them!
+ Postponed working with the stage time/difficulty, at least until I get even more content in here.
version 0.26:
Beta 0.26
Updates:
+ Room transitions a lot smoother
+ Fixed duplicate items dropping if you already have it equipped.
+ More fun with stage time
+ Boss Rush Mode has one goof off boss, mostly for Lol's
+ Backgrounds simplified because they caused my netbook lag. (Eventually will get rid of a lot of the particles.)
+ Changed the hp icon to a heart because before it looked more like a Metroid energy thingy.
+ All the rooms are the same size. Mostly to make the transitions work peachy, and for some easy level design.
+ Hard Mode postponed until people tell me how annoying Easy Mode is.
Latest Screenies (version 0.26):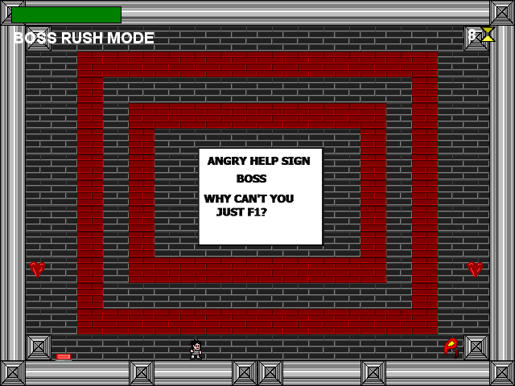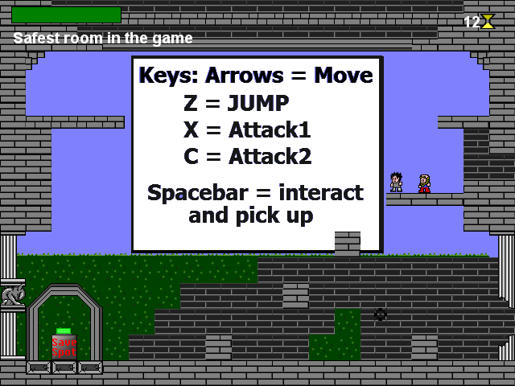 version 0.25:
Beta 0.25
Updates since 0.24:
+ Tutorial and Boss Rush Modes removed. Replaced with "Challenges" and a Load Game option.
+ Metroidvania approach instead of the linear style.
+ Invincibility frames. (Okay this took awhile. Sorry!)
+ Help Screen updated.
+ Tons more.
Controls:
Arrows move.
Z = Jump. Jump a second time IF in midair and have 2x boots equipped.
X = Melee attacks. Punching and Swords.
C = Projectile attacks. Slingshots, Torches, and Bows. (Kicking if you have nothing equipped.)
S = Toggles between Melee attack and boomerang. (Boomerang concept I blatantly ripped off of Zelda One. Because it rules.)
Space bar = toggles sign and npc text.
Left Mouse Click = offers description on most things.
P = pause.
R = Restart from last save spot.
Double Tapping Left or Right = lets the player run. (12/13/12 added because I forgot to mention this ever before!)
Last version to actually have music in it since I'm lazy and haven't tried composing anything lately.
Beta 0.22
http://www.mediafire...dnkjf1jp4q4ofs6
Edited by the_bob42, 14 December 2012 - 06:00 AM.