SpinBlender
SpinBlender: Full Functioning Screensaver v1.13
This is a full functioning screensaver I've been working for a while. It includes the normal screensaver, a settings menu, and a small screensaver preview window with the help of the
Advanced Window DLL made by the_doominator
gm_sslib2.dll screensaver DLL by netmaestro
Right click the file and select "install". It has a couple interesting effects.

Some things you don't need to know:
- there are 8 different visual presets: Celestial, Minimum Spec, Novaspace, FireFlies, Really Slow Edge, Quick Spin, Block-bot, and Random.
- Press "Enter" to see current preset.
- Left and Right arrow keys cycle through the presets
- Press "F10" to toggle extra data stuff you don't need to worry about.
- Up and down arrow keys adjust alpha setting.
-Novaspace and Celestial are siblings and are my favorites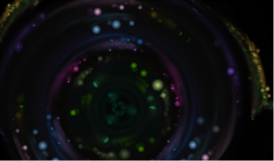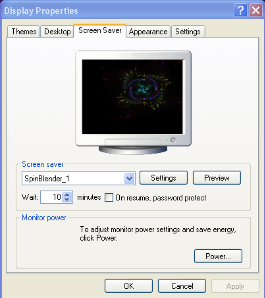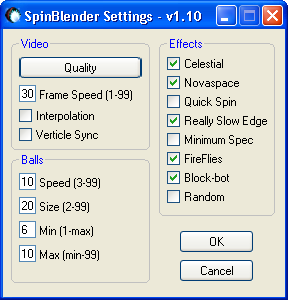 I really appreciate any feedback. Thanks.
Category:
Application (screensaver)
File Size:
1.27MB
GM Version:
GM8
XP Compatible:
Yes
Vista / Win 7 Compatible:
Win Vista-Yes / Win 7-Yes
Changes Screen Resolution:
No (fits to current resolution)
Download Links:
-Yoyogames Link:
http://www.yoyogames...der-screensaver
-MediaFire Link:
http://www.mediafire...lender 1.13.zip
Btw, can anyone link me to the screensaver dll made by Network Maestro (gm_sslib2.dll). That or some other screensaver dll would be awesome. I'm currently using the_doominator's Advanced Window DLL.
I just got my hands on the screensaver DLL :D
http://forums.yoyoga...=1#posts-786911
Edited by Vivi_IX, 06 September 2011 - 05:26 AM.