Title:
BLOPIT's ADVANCED PLATFORM ENGINE V1.03
Description: An advanced platform engine for all your platform engine needs
GM Version: 8.0
Registered: Yep (for rotating Platforms)
File Type: .gmk
File Size: 28.9 kb
File Link: Host-A Hosting [2400+ TOTAL DOWNLOADS]
Thanks to all that have downloaded. Sorry for keeping V1.04 on hiatus but unfortunately it will remain as so for a couple months. Sorry.
No credit required but you can if you want to.
VERSION 1.03:
Multidirectional Ladders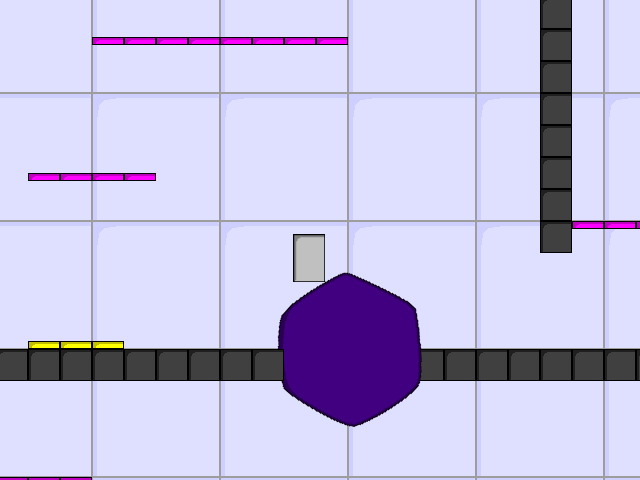 Screenshot2
Additional Info
This is My Platform Engine!
It features:
-Dynamic Double Jump
-Walljump
-Jumpthrough Platforms in all shapes
-Ramps / angled floor support
-Platforms in all shapes and sizes
-Ice in all shapes and sizes
-Acceleration
-Parallax and smoothing scrolling camera
-Jump pads
-Rotating Platforms
-Moving Platforms with any Direction and Speed
-Dash with double tap
-Pickup Objects and throw them
-Multi Directional Ladders
-Other Stuff I can't remember
-Easy Customization for YOUR GAME!
Soon to be Added in Version 1.4
Water
Better Rotation Blocks
Bouyant platforms (for water)
Moveable blocks

Will be added eventually
Enemies and stuffs
Solid moving platforms
Real-time morphing terrain
Real-time bending ladders*
moving platforms in all shapes and size†

*may be scraped as it demands way too much computing power
†may be scrapped as it is currently way too buggy
Mods coming soon
Simple jumping
Variable jumping
Wall grab jump
Wall climb

DOWNLOAD HERE!!!
Do you have lite? .EXE so you can envy people with Pro
MODIFIERS

Mods can be made by anyone so feel free to submit
Mods aren't in the vanilla because they mess with currently installed stuff (you can't wall jump and wall climb at the same time)
Also they are here for ease of use so if someone want a particular thing that not alot of other people want they just have to replace a little bit of code

For people that want drop down platforms!
For people that want walljump without wall friction!
OP note 09/24/2012:
Sorry I can't work on this as much as I want to due to university and stuff. I will come back to it
eventually
though as v1.04 was already about a quarter done since late 2011.
New things that were being worked on were water physics, buoyant platforms, ropes, moveable boxes, crouching, more fluid rotational platforms, and cleaning up unnecessary code.
Things are technically done as most of the things are just being taken from an older platform engine of mine that I made around 2008-09.
Also I wanted to come up with a better way for people to customize this engine to how they wanted it in their game. Feel free to give me ideas.
Also feel free to tell me what you want to see in future engines (combat will most probably
not
make it into engine)
Edited by blopit, 24 September 2012 - 06:04 AM.