Duo Duell
an incredibly short boss-corridor shooter.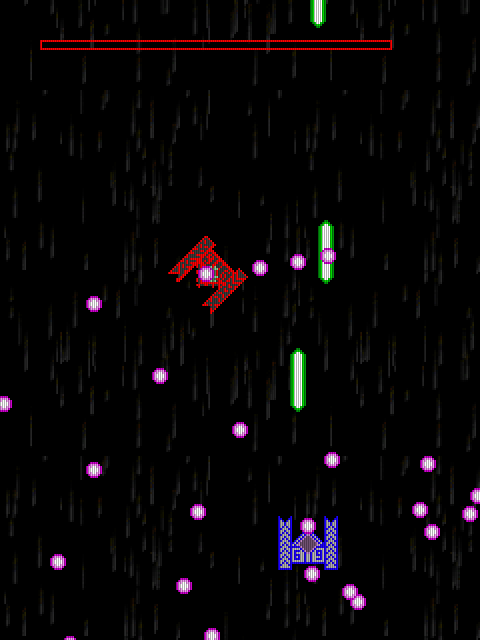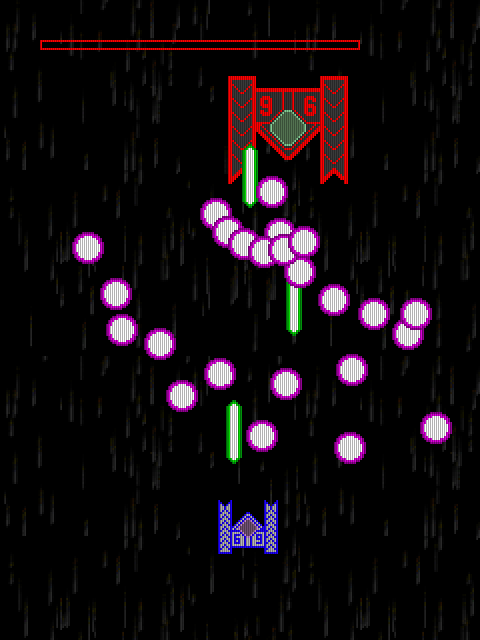 DOWNLOAD LINK v1.0 competition entry
(BOX) (2334kB)
DOWNLOAD LINK v1.3
(YYG) (2329kB)
Controls:
-Move with WASD or arrow keys
-Shoot with Z or J
-Hold shift to move slower
Supply your own music. I didn't want to bloat the size of something so small and I don't get along with midis. I recommend this song:
http://www.youtube.com/watch?v=GUOkwmq05is
Duo Duell was developed for the RDC (a biweekly 4-hour competition) that never was. The theme was 'duel', so me and Snail Productions figured we might as well make a duel out of it, seeing how we were the only two to show up. (There was a third entrant a bit later in.)
It won by unanimous voting
from a whooping
two
judges versus an astounding
two
competitors:
<Alti> okay I found an advisor ._.
<Alti> here are his remarks:
<Alti> "First one sucks"
<Alti> "Second one sucks"
<Alti> and then "Third one's okay"
<Alti> so I think we've found a winner

There you have it: Duo Duell is "Okay". Get it while it's hot!
Game update:
-There is now an ini-file generated upon the game's creation where you can enable and disable sound (press 5 in-game for this), an FPS counter (F), and the scanline effect (only available through the ini-file). You can also set the game's room_speed, though the variables in the game will be compensated to fit. Good for owners of 120Hz monitors and incredibly terrible computers alike!
-Enemy bullets now explode along with the boss, meaning you will no longer die right after defeating a boss.
-You can press buttons 1 to 4 to warp directly to that boss for fun and practice.
-File size decreased by 4kB somehow!
Edited by zeddidragon, 16 May 2012 - 09:11 PM.