Game:
Download Link
Category:
Adventure/Strategy/Shooter
File Size:
12 MB
Gm Version:
GM8
Updated 9th April
Well it's been a while since the last update but we've been tweaking and adding a load of stuff that at the minute can't be accessed in the demo as the rest of the work to get the story to that part hasn't been completed.
Rest assured though there's some fun times ahead!
Things that are more noticeable are improved textures and models for the environment, a few tweaks to the layout of a few of the rooms and improved the font and message delivery system. Also altered the in game gore a bit so it's a bit more realistic without being over the top. Extra areas are in place with new objects to interact with and collect. In total the game now spans 26 rooms from the Courtyards right through the garden maze up to the first floor of the mansion itself. Still the second floor and attic to complete in the mansion and then there's the "other" sections that are still in the process of being designed.
Also it's now possible to die when you run out of health - a suitably gory game over screen is displayed for 20 seconds or until a key is pressed.
The major addition is a full custom save and load system to move away from the issues found with the stock GM save/load system.
This update will require you to delete the saves directory if you've already run the game in a previous version as the format is completely different.
There's more information in the instructions now to help game play along a bit so well worth reading those first.
Music is now finalised too - these are now the tunes that will be used permanently. Main menu music composed and produced by myself with the in game music from Newgrounds.
There's been a lot of behind the scenes bug fixes and improvements too, far too many to mention but rest assured myself and Jakyl11 have been more than busy testing and tweaking everything we can find to make it more involving and ultimately more playable.
As always though we appreciate feedback - remember this isn't just another Zombie TDS - it's a whole lot more with adventure and rpg elements included.
Just think of it as a cross breed of Resident Evil and Ghostbusters all rolled into one - with the zombie's taking the back seat for a change!
Update 10th April
- Screenshots updated and instructions added below for reference.
Update 18 March
More graphic and code optimisations put in place.
Now added a controller and back plot based on time of day. Clock starts at 19:00 hours and you have until 07:00 hours to complete the game.
Updated HUD to fit more in with the story of the game and altered message delivery to suit the new design.
Also solved a few problems with the energy system (one bug was a crash when you ran out of energy) and now have it so that your energy level reduces when running, albeit not as much as if being attacked.
Update 14 March
New game options menu added to alter the controls/key mapping and also graphics quality of the new lighting engine.
Based around a 2d light and shadow engine by virus2_0, it has been converted to work with the 3d environment and gives real time shadowing from the player's flashlight.
As this can really hurt performance there are 5 graphic quality modes (5 highest, 1 lowest). The top 3 settings give the full shadow engine with differing shadow accuracies. Level 2 uses a sprite based flashlight beam and level 1 uses a simple cut out alpha mask to darken the edges of the room.
Have also added an option to affect the overall darkness of the room from quite bright ambient light to pitch black so you can only see what's in your beam of light.
New screen shots added below to demonstrate the different light modes.
New title music added too, but still not confirmed as permanent.
Would be really interested on peoples take on the new lighting engine and whether it has too much of a performance hit.

Update 10 March
Older Updates:
Description:-
I wanted to make an adventure/strategy/shooter type of game so came up with the idea of a Haunted Mansion that you have to go around solving clues etc. in order to complete the game. Rather than a traditional score I opted for a timer so the quicker you get through the higher you get on the ranking (still yet to write the custom high score engine for this).
I didn't want a normal zombie killer so incorporated the shooter side of thing as a side element of the game and concentrated more on making the adventure side of things.
Instructions:-Controls:-
Described in the instructions section in detail but it's mainly the cursor keys to move, Z to fire, Shift to run and Alt to reload. These can be redefined from the main menu to any configuration that suits.
Comments and suggestions welcome!
Screenshots - Updated 10th April:-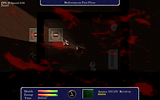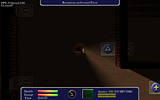 Edited by lwindridge, 10 April 2011 - 11:53 AM.