by

EanFox


Topic : http://gmc.yoyogames...howtopic=491028
DOWNLOAD (zip) : http://www.solidfile...m/d/5f645245f3/




Before starting this review, a word of warning - the game file for Project Aurora is 110MB! Now that may not seem very big, but for a GM game it´s huge and I know that this may make many potential players not download. Don´t be put off by this, and download the game... NOW! Why? Well, this is the closest thing to a professional 3D game made entirely with GML (no dll´s, like Ogre3D were used in this game) that I have ever seen. It´s also fun, stylish, beautifully made and an overall class act.



Once you load the game you get a rather sparse title screen that has an options button and a play button. The options are fine and give you a certain control over the mouse and the graphics, but are missing a volume control for the music and sound effects, as well the ability to map the keys as you wish. This is a shame, but doesn´t really spoil the game as the default keys are your standard WASD+mouse for moving and looking, with shift for run, control for crouch and space for jumping, so anyone used to playing FPS should have no problems. Okay, time to press that game button and start playing!

The game starts with a nice video introduction (game graphics) that roll the credits while setting the scene, then, once past that, we are introduced to the "Helper", a floating drone that is to guide you through this first stage of the game. He tells you who you are (Shade) and explains that this is a training session before you go to see someone called Dr.Ean - and so begins a stage that is basically a tutorial to get the player used to the mechanics of playing and give them a feel for the world in which Shade lives. This is where my jaw started to drop and my eyes started to open wider and wider... The game is beautiful! yes, the models are all low poly, and the textures are low-res, but it all works really well together and the animations are exceptionally fluid and well programmed. Even Shade´s tale twitches and her hands open and close when you don´t move! Details like that show the love and care put into the game...



As for the gameplay, well, think of a sci-fi Tomb Raider and you won´t be far from the mark. In fact, as I played I kept remembering the glory days of Lara on the original PlayStation... this game is that well made! Your character has a pretty big repertoire of moves that range from the usual running and jumping to wall climbing and ledge walking, all of which you will need to master if you wish to pass through each section without dying and having to start the level again. There is a also a fair amount of combat in the game and it is split into two main styles - close combat with a sword(?!) and ranged combat with guns. The sword fighting is well done with some nice animations and the controls are very responsive, but it can be easy to spam certain attacks and pass enemies too easily, which is a shame but thankfully it doesn´t spoil the experience too much. As for the guns, they can be used to destroy the enemy but they can also serve to destroy certain things in the environment and so give you a tactical advantage or take out multiple enemies in one go, and there is also a first person mode that can be used to help with aiming, which is nice touch.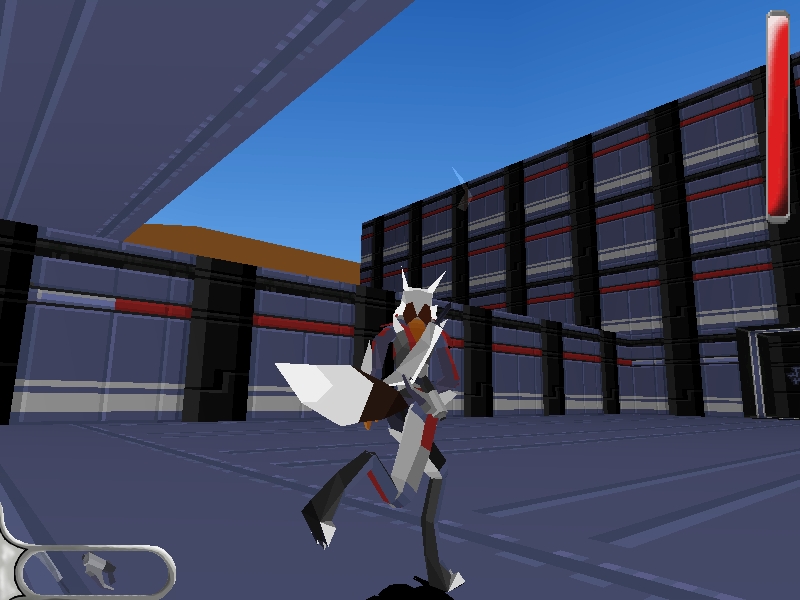 The level design is great, although the levels are on the small side, and the story is good, with enough depth to keep the player interested as they go through the game. I also felt that the story was helped a lot by the music which throughout is VERY good and adds perfectly to the atmosphere of the game, and the sound effects are almost all perfect at all times too. I should give a special mention here to the voice acting which is great and rarely done on any GM made game, let alone done as well as it is here. Again, professionalism and style, the two main ingredients of this title! Are there any negatives to this? Well, there are a couple of things... the most important of which is that the game as a whole is way too short! I would have like it to be at least twice as big, but you can´t have everything... I also didn´t like the fact that sometimes the music seemed too loud and there is no volume control in-game, and the sound Shade makes when jumping (Serena Williams-like?) can get quite annoying! I´d also complain a little about the end boss-battle, which is just a bit too long, and the fact the game itself is just a bit too easy... but that is just nit-picking! Honestly, the game is nearly flawless...

To sum up, this game is incredible... It deserves to be ranked up there with the greats of GM programming and is certainly one of the best (if not THE best) 3D games ever made with GM. It is visually stunning, has a fantastic sound-track, is great fun to play and the overall presentation is extremely professional... so really there is no excuse for anyone not to play this! None! So download it, play it and say "thank you!" to EanFox for dedicating two years of his life in making this gem of a game.