Hey guys! Since we're in between competitions once more at the moment I decided to throw together a little Metroid clone using unrestricted graphics and controls, etc. simply for my own pleasure! I used the game concepts from my "uLTRa MeGa GiRL" demo and hacked an engine I dug up off the net in conjunction with a Random Automatically Generated Environment (R.A.G.E.) system that I designed so you can immediately hop into some hard-core Metroid action!
This is not your typical Metroid clone. It is a side-scrolling shooter / platform hybrid.
Yoyogames link:
http://www.yoyogames...-metroid-escape
Description:
MeTRoiD : eSCaPe
©2010 nintendo
developed by ://sycx1
all rights reserved
What does Samus Aran do in her downtime in between missions?
Why, work-out in a virtual reality chamber, of course!
You command Samus Aran as she blasts her way through a
Random Automatically Generated Environment.
This is called the R.A.G.E. training system.
Samus will always be moving towards the goal.
Controls:
Jump: Spacebar
Dash: Shift
Beam attack: Right Mouse
Missiles: Left Mouse
Collect Chozo Orbs to power-up and upgrade.
The game automatically saves when you pick up a Chozo Orb.
-Select Beam: Increases range of normal attack-
-Select Missiles: Increases range of missile attack-
-Select Energy: Gain an energy tank-
-Select Metroid: Obtain a Metroid guardian pet-
You should now know everything you need to get started!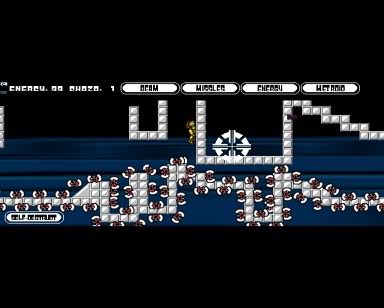 also keep an eye on my homepage at
http://www.sycx1.com
for more information about this game as I take it out of the "demo" stage to a more developed version with multiple levels.
-SyCx1