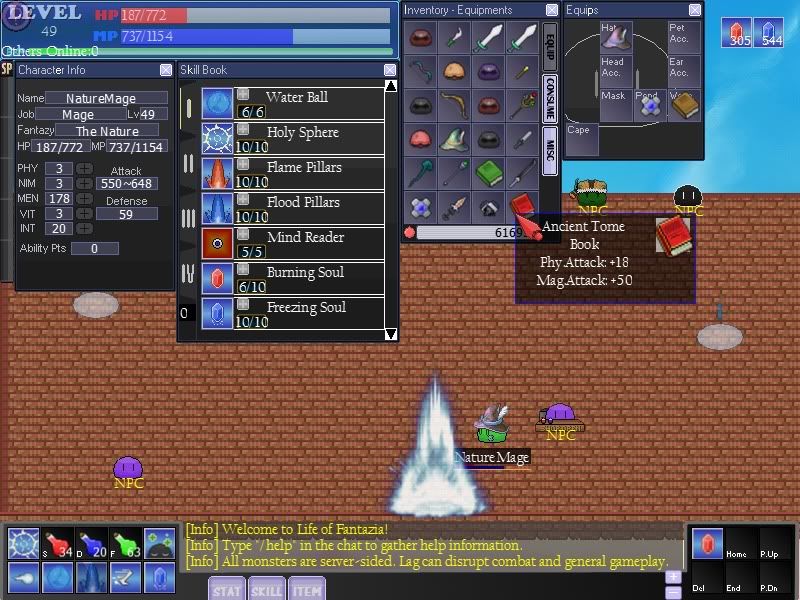 Supplementary Screen Shots:
Screenie #1
SS #2


FORUMS: Here
FULL GAME DOWNLOAD LINKS: Mediafire

**Uses RTS-like MOUSE MOVEMENT. Laptop mouse pads not recommended...


I tried to focus on detailed gameplay that has some depth. Although the mouse-movement kinda gets in the way of things, I am trying to make combat in this game very technical (with elements from a 2-D fighter) that can be both used in hunting down mobs and bosses, and even in PvP (ignore the lag tho, mate :v).

This game is redeemed to be very interesting and fun WHEN played with other players, especially with the Group Quests/Dungeons and massive Team-vs-Team systems that are out there. Problem is, it's extremely short on player-base at the moment. Though I can't ask for much (and I certainly won't ask for much), any effort to contribute and invigorate the community for other players and inviting other friends to hope on the boat will be deeply appreciated. One easy step is to register and use the forums ;D


Because this is the GMC, I'll post some systems and features here:
1. Fully-working stats system along with level system. Hunt down mobs, level up, and use the stat points earned to power up your character.
2. Neat inventory system. Has multiple tabs, multiple slots, and multiple stacks. Interface is fairly easy to grasp.
3. Completely functional Skills system. Everytime you reach a level, learn new skills and add them to your list. Use skill points earned upon leveling up to use fancy and awesome skills~
4. Working buffs and debuffs system. With a wide-range of buff and debuff types, combat becomes interesting- whether it be against mobs or other human players.
5. Combat system used in hunting, PvP, or GvG. Use different moves successfully and chain attacks together to create interesting combos to help you aid your fight.
6. PvP and GvG (up to 20 vs 20) (removed temporarily after CBT2). Involves a rather intuitive and challenging combat.
7. Job customization using a unique class system that gives the player a chance to mishmash and create his/her own class for every new character.
8. Beginner-friendly environment and easy leveling. (Do note that CD OBT is running at 5x EXP for testing purposes)
9. PvE / GvE elements, to satiate your boredom when you feel like you're just grinding time away.
10. Neat and simple graphics. I tried to keep it at a simplistic style of graphical representation, going for the cute look. Be warned, there are many placeholders at the moment)
11. Character customization, supported by the cute graphics. (customize face, skin, hat/armor, etc.)

I guess that's it... Please enjoy it and give back some feedbacks



Regarding hacking: I'd rather have you not, but yeah...
Please tell and report after all hacking attempts so that the game can get better :<

Again, it'd be great if you can give feedback, suggestions, or a simple comment after trying the game out ._. (JOIN THE FORU---...)
Commenting here would definitely help a lot since I will notice it right away and will help me see what is good and wrong with the game (no, it's not like I need it for bumping the topic up or anything... right ;D ?)


Mazin' credits to those who deserve them.

This is a mere testing phase. Server will usually not be on 24/7. It is hosted in Central U.S. Latency may vary depending on physical distance between connections.
Accounts have not carried over from CBT4, and accounts created during this testing phase WILL NOT carry over to future testing phases/ major releases.
Edited by hanyunanodesudc, 29 May 2013 - 03:56 AM.