Yes, I am perfectly aware that Enigami Games has too many projects on the go. And yes, I take full responsibility for that.
Untitled Zombie Shooter
(UZS) is, as you may have guessed, a shooting game where it is your job to shoot zombies. You may have also noticed that the game currently has no title. No, UZS does not for all intents and purposes constitute to a title.
Anyway, you're in a room, and zombies want to eat you. There are now three guns, the newest addition being a machinegun/assault rifle (I don't care enough about guns to learn the difference). The teammate feature of old has been removed because they made the game too easy, and I've added even more hp to the zombies to make it even harder.
Ammo currently doesn't respawn in any way, shape or form, so use your pistol at first. The next release will
probably
have some way of getting ammo for your shotgun and machinegun, and the pistol will no longer have infinite ammo.
All in all, a pretty fun game in my opinion. Also note that it is very unforgiving. Get swarmed by a group of zombies (and you will) and you have a 1% change of surviving... if that.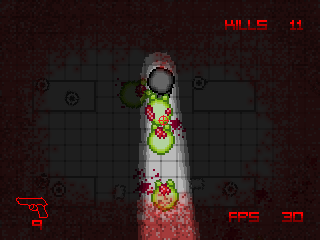 Good luck.
Download UZS
Controls
:
WASD - Move Around
Move Mouse - Aim
Left Click - Shoot
R - Reload
E - Switch Weapon
Edited by Rouge, 02 January 2011 - 08:09 PM.