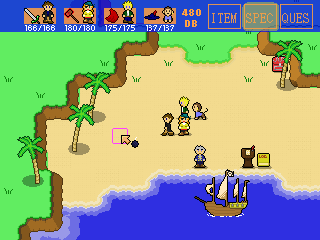 Dubloon
It's finally finished! A point-n-click pirate RPG adventure game. There are dungeons, bosses, sidequests and secrets in a huge explorable world.

File Size:
29.7 MB (11 MB version also available; see below)
Download Links:
GameJolt
http://gamejolt.com/...pg/dubloon/254/
YoYoGames
http://www.yoyogames...ames/show/83854
LowFi Version:
This version has low quality music, but is only an 11 MB download. Not recommended.
LoFi Download
Walkthrough:
If you're really stuck and don't know what to do or can't solve a puzzle, you can consult this.
Walkthrough (For Landlubbers)
Gameplay Video (First 6 Minutes):
http://www.youtube.com/watch?v=6nTuU2b9v0k
Screenshot(s):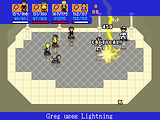 - Battle
[Using a Battle item]
[Sailing on the open seas]
[A battle fought in a jail]
[A monkey explores a forest...]
Soundtrack:
If you're really into the music Prophecy made, you can download the full game soundtrack with high bit rate/album artwork/proper song titles here.
http://gamejolt.com/...s/download/254/
T-Shirts:
You can get a Dubloon T-Shirt here! Feel free to send suggestions for designs you want... I like selling shirts.
http://www.zazzle.co...438694018254966
Developer Commentary:
You can watch a playthrough of the game with my commentary
here.
Credits:
-Game by Banov
-Music by Prophecy
Changelog:
http://banov.blogspo...n-complete.html
Notice:
Because of bug in earlier versions of the game, you might find a situation where you lose crew members or have a crewmate who has a blank name. If that happens, I highly recommend you REDOWNLOAD as the most recent versions fix these bugs automatically upon startup. All you need to replace is the EXE, so the Lo-Fi download works just as well. Sorry for the inconvenience!
-----------
Comments and constructive feedback are greatly appreciated!
Edited by banov, 18 May 2011 - 07:55 PM.