Title: Code Snippets
Description: Solutions to many common coding problems.(over 45 rooms of code snippets)
GM Version: GM8
Registered: No ( but some of the code snippets requires pro )
File Type: EXE
File Size: 6.8MB
File Link: Click here to Play Now or Here to Download
Downloads/plays Over 2220
Additional Info
I have seen other apps like this, but this one has a diffence.. after selecting what you want to know about (i.e: movement) you will be shown an example and the code on the same page.
Making it easy to understand what the code is and does.
If anyone would like to submit any code they think would be of use, please pm me and i will add it and of course add you to the creadits.
(As well as helping others, i am also learning my self( as im a novice too) so some ideas that are offered will be a challange to me and might take some time to add)
As i now have rotating ads
If anyone wishes to help with submiting code or help to make this app the best it can be then im more then happy to place a logo and link to your app/game or threads.This i feel is the least i can do for the help given.
I have added Extensions links (and will be including links to scripts and dll's)
3D Rotating Menu
8 Way Shooting------------------------UPDATED to show working code
Analog clock/]Time Functions
Basic 8 way movememt------------------------UPDATED to show working code
Basic dice
Basic Hud
Basic text scrolling
Bouncing ball
Bullet trails
Changing the cursor
Check key pressed
Conveyer belts
distance to object
Dragging
Draw a flag
Draw Grid
Draw Triangle
Drawing sprite on sprite
Enemy follow
Galaxy
Hovering text
Image_angle
Image fade in
Multi gravity fields
Orbit object/Orbit object code Two
Object health bar
Object rotation
Object spin
Random backgrounds
Rotating ads
Rotating Cam
Rotating Ellipse
Screen Drag
Scrolling Credits
Shadow/reflection
Shooting arrows
Side detection
Slider bar
Speed Cheat
Spotlight
TDS movement
Timer------------------------UPDATED to show working code
Two basic menus
Typewriting effect
View rotate
Wave fx
Zoom

The latest update now shows the part of the code that is n use in red so it is easy to see how the code works.
Looking for ideas and or comments.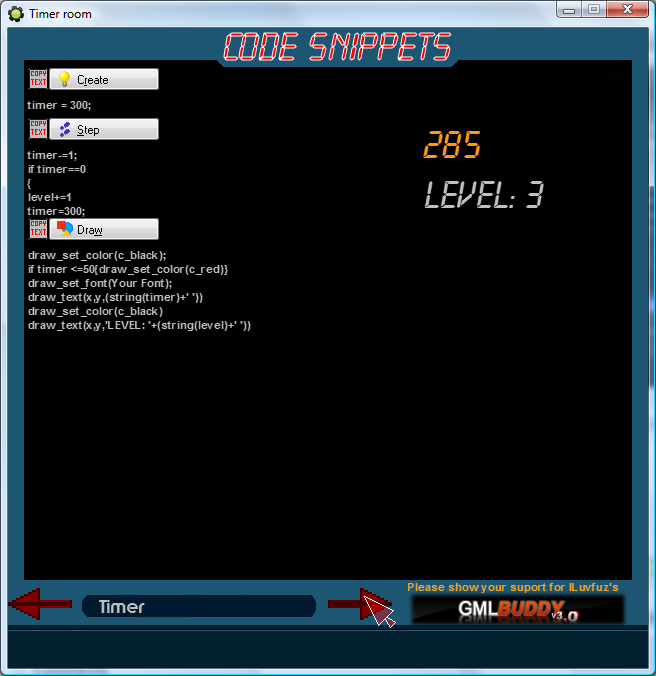 Edited by Hiddenaces, 12 September 2012 - 07:42 AM.