Enter the world of Blackfoot, a world a little bit smaller than you may be used to. Take the role of one of nature's greatest assassins in this Platformer RPG. Play as a weasel as you work to hunt down 4 of your prey animals, but look out for other woodland creatures as they may attack you on sight. Sneak around the world and only attack those you have to, while always keeping your final goal in mind.
Visit the Website!
Gameplay:
Play through 4 action packed levels where you must collect 10 eggs hidden throughout the stage and kill your prey at the end of the level. The eggs are very hidden and it will take you multiple runs to be each level. But do not fret, as long as you kill your prey with any number of eggs, you will be rewarded with experience! Level your weasel at the menu screen by adding Jump, Acceleration or Speed. Be aware at high levels, acceleration becomes less important for making crucial jumps. Hide in holes/caves to make creatures no longer see you or to allow your prey to pass with you unnoticed.
Now with Achievements!Controls
Up - Jump
Left, Right - Run, Wall Jump
Down - Duck, Hide, Fall off wall.
Space - Attack
P - Pause
Tip: By holding down and quickly wall jumping, you can do a fast push off useful for going down trees/holes.
Trailer: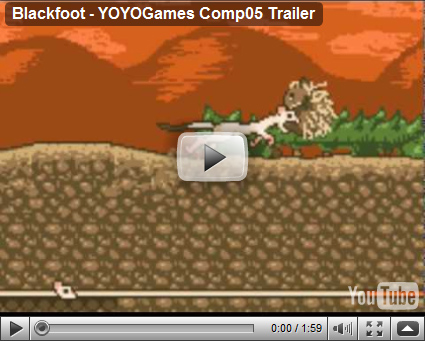 Coverage:
Free Indie Game of the Week Award
-
Bytejacker.com
Continue Review
Pixel Prospector
Jay is Games
ByteJacker
GMTalk 3
Rincon Indie
(Spanish)
Fuxter
(Russian)
Play Indie Games
(Portuguese)
CasiolVidados
(Spanish)
Jeux Video
(French)
Credits:
Game by Daniel Fornace (Graphics, Programming, Design)
Music by John Avarese
Sound Effects by George Rogers
Tips:
This is not a game that you will beat in one sitting. You are also not going to be able to speed through it. The game is most fun if you save often and come back to it. It will take a while to get used to a level and find all the eggs. Make sure that you try to get experience every run as that will make the levels easier. If you are having great difficulty with one level, then try doing a previous level for experience then coming back. If you can beat the game then post a screenshot of your Menu screen with your weasel's level and your setup!
Winners
Zeddidragon
BENJAMUS
Screenshots

Download:
Download Page
Better for playing and saving the game locally.
Yoyogames Link
Comment here as well and wish me luck in the competition.
Donate Page
Donate Money to Support!
-Dan
Edited by Dan The Man, 02 January 2011 - 08:48 PM.