Title:

Sonneillon


File Type: .exe
File Size: 7.26 MB
About: Sonneillon is an RPG with puzzle based gameplay, also my Competition05 entry. You assume the role of Jacob Lansley, a simple family man who's life was shattered in an instant. Recovering from an acute case of amnesia, your memory of that dreaded night is cloudy. You spend your time in the game scouring your house for clues and items trying to remember what exactly happened to your friends and family, but most importantly, why whatever it was that happened did not happen to you...
Screenshots: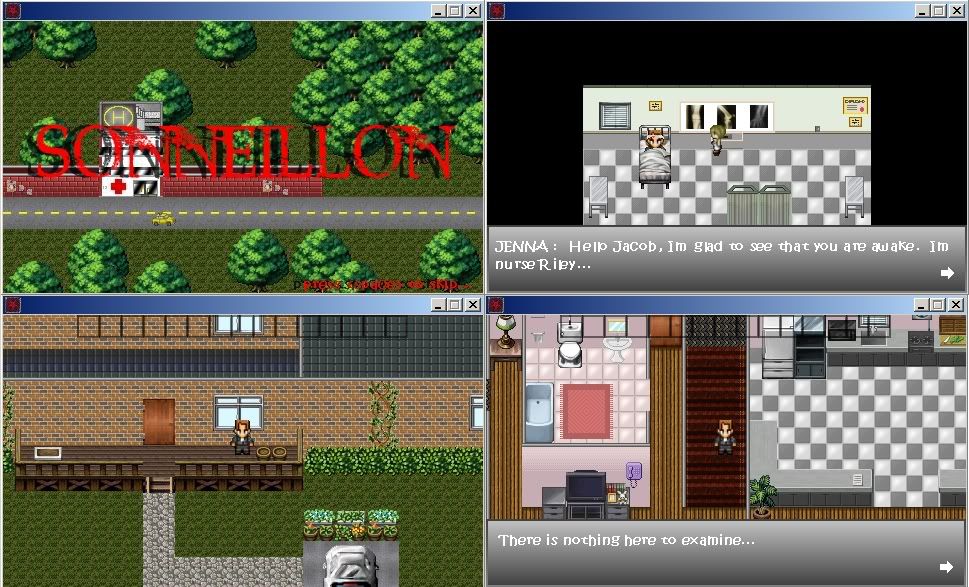 Host-A download:
Download Sonneillon_1.1.exe
YoYoGames download:
Sonneillon @ YoYo
(If you do play the game at YoYo, I would much appreciate you giving the game a rating as well - thanks)
Sidenotes: The opening and closing to this game contains ALOT of text to read. Please don't let this deter you from the game, I just wanted to establish some very firm plot roots before you are turned loose. I ran a stopwatch alongside myself the last time I played this through, and even fast forwarding through the text of the game and going directly to every items location and directly solving each puzzle, it took me 11 minutes to complete the game. Without knowing anything about the game, you should be able to enjoy a decent amount of actual playtime.
Posting: Please, respect this type of game and do not post item locations, secrets, plot information, or how to solve the puzzles. I would like for everyone who wants to play to get an equally enjoyable experience of finding things out on thier own.
I had a lot of fun putting this game together. I hope that some of you have a fun time playing it through.
~JsmithLMSL~
Edited by jsmithLMSL, 05 March 2010 - 02:38 PM.