This package is no longer required for GM 8.1 users as 3D surface support was finally fixed by YYG. However, a new, separate package specifically for GM 8.1 users is being worked on which includes more advanced features.

Surface Fix (Version 1.2.1)
Surface Fix is an extension package/DLL for Game Maker 7 and Game Maker 8 that lets you easily and flawlessly use surfaces in your 3D games. No manual depth sorting needs to be done and no slow functions such as background_create_from_screen need to be used. Simply install the extension package or use the DLL and your game will instantly be able to use surfaces without problems in 3D mode.
Additionally, Surface Fix allows you to do the following:
Use room transitions in 3D games - even custom transitions will work without any modifications!
Draw to surfaces in the Draw event without messing up views
Quickly dump a surface to a string or file (to simplify saving surfaces with your games)
And more...
Plus, you can use it to add great-looking special effects to your games! Some of the effects that have been done so far include security monitors, mirrors, blur, motion blur, depth-of-field, glow, and shadows. Use your imagination and the possibilities are endless.
There is both a GEX version and a DLL version of the package. Also, a help file and five examples (security monitor, blur, motion blur, depth-of-field, and transitions) are included. Please read through the help file before you use it. Note that
Windows Vista and Windows 7 users need to run GM as an administrator in order to install the GEX version of the package.
I can't do anything about this, so don't complain. If you're unable to run GM as an administrator, use the DLL version instead.
Enjoy!
License
Surface Fix is completely free. You may use it for both commercial and non-commercial purposes. If Surface Fix is used in a commercial game, you need to give me credit in some way. Otherwise, I don't really care.
Screenshot (from the monitor example)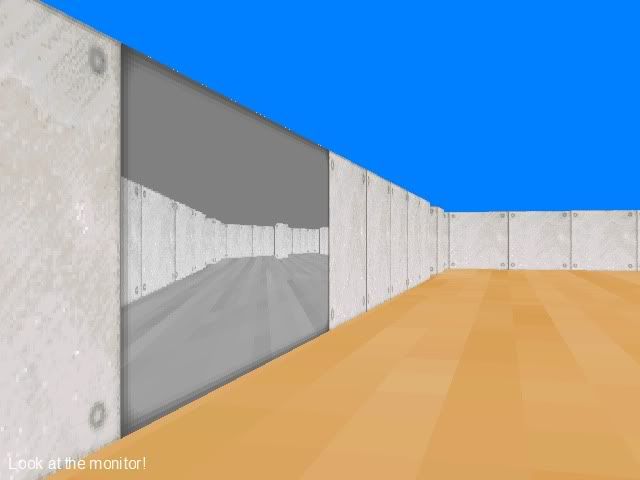 Download
Extension package:
DLL:
Edited by amd42, 07 July 2011 - 12:51 AM.