madnessMADNESSmadness
by NAL
as reviewed by Banov
Links:
GMC -
http://gmc.yoyogames...howtopic=452695
YoYoGames -
http://www.yoyogames.com/games/102116
GameJolt -
http://gamejolt.com/...ssmadness/1003/
If you've spent some time working with Game Maker, you should have heard of NAL by now. NAL (which stands for "Not A Lot") is an indie game dev who lives in the UK, and he tends to make very short, zany games with crazy graphical stunts and gimmicks. He's made a lot of games, each unique and interesting. madnessMADNESSmadness is some of his latest and best work.
In madnessMADNESSmadness, you use the arrow keys to take control of a small humanoid character who must run and jump constantly to escape a relentlessly advancing red wall. Touching the red wall means death, as does falling into one of many gaps or touching one of many, many spikes. You're scored based on how long you can survive this crazy challenge. One of the key points in this game is the way the level is shown to you; it rather defies my best description, so I'll let the screenshot speak for itself. As NAL puts it,
"Escape the wall, in a bizarre, circular world where the path comes at you through 360 degrees and disappears underneath."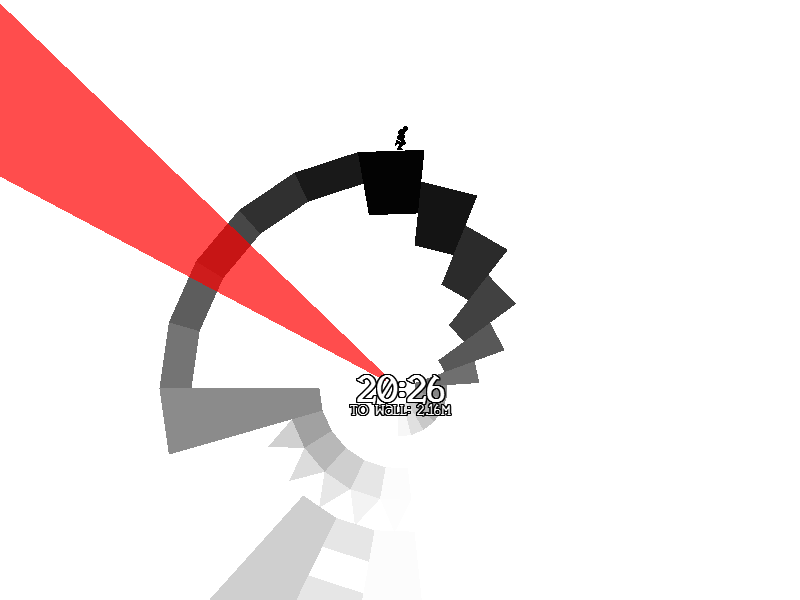 It's a very simple premise, and you can see the entire game in under a minute, but during your playtime it can really capture you. It's pure maddening fun. The energetic music and constantly advancing wall make this a very fast-paced, adrenaline filled experience. It provides very short, but very exciting play sessions that would make it ideal for some sort of handheld system. The circular world is mesmerizing to watch--it still fills me with wonder no matter how many times I play it and see it. It's pleasing both as a game player and as a game developer.
The game is very difficult at first, but if you find yourself as addicted to it as I was you'll quickly grow to meet its challenge. The very first time you're able to make through an entire loop of the level, it's like an epiphany. The game rewards both easy casual play and expert skill, and it's very satisfying to master. For those with very competitive spirits, the game even provides an online highscore listing. Good luck even making it to the top 50, however, as there are quite a few astounding scores to beat...
How can this game be improved? As I've said before, you can see the entire game in under a minute; the level loops forever, but it's easy to tell where the seams are. If this had been extended with an even longer set of obstacles it would have provided even more playtime. However, NAL didn't intend for this to be a large game, nor does it need to be. As a simple thrilling game experience, the game is perfect and succeeds in everything that it should.
Excellent work, NAL.