@xshortguy: Sorry, I'm not much of an MMO person so I don't know those examples. But from what I understand it sounds like we're thinking along very similar lines.
My point about the tutorial was that if you're teaching people how to program a server listing/lobby program in GM it's of little use to them in the real world, since that would require running the program 24/7, which most people can't do. A PHP/SQL solution would be much more helpful since it can be run on most standard web hosts, which people do have access to. I'm just thinking about it from a practical application standpoint and what will actually work for people in the end.
@sabriath: It's not crap, you've just misunderstood (or maybe I failed to completely explain what I meant). I'm not suggesting that the two programs be run on the same computer, behind the same router. That wouldn't make any sense since that would suggest that there's only one game server, which would eliminate the need for a server listing/lobby. I was suggesting that there would have to be a central method for keeping track of servers being run from other locations. Example: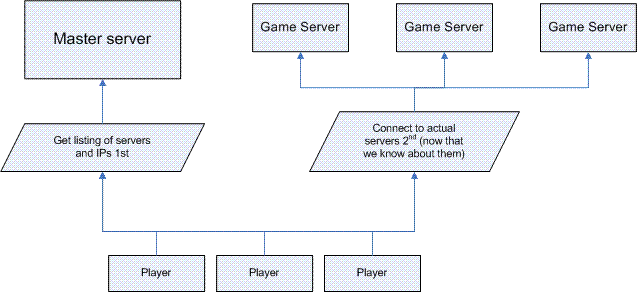 So first the players communicate with the master server and get the list of all the servers that are currently online. Those servers are all elsewhere in the world, being hosted by either players or at dedicated hosting sites. When the player decides what game to join they disconnect from the master server and connect to the server they found.
Again, it's a similar method to what ReflectGames.com uses, along with bigger names like all the Valve titles.