Greetings, everyone.
First of all, allow me to introduce myself. My name is Bill Shillito, also known in other communities as DM Ashura. I'm a musician for Konami's "Bemani" series of games, specifically Dance Dance Revolution and beatmaniaIIDX. (More info at www.dmashura.com) But that's not why I'm here. I'm here because I'm also an avid Sonic fan, and I've begun development of a Sonic fangame called
"Sonic Gemini."
This game is already in production, and we are in need of a few more people to round out our team.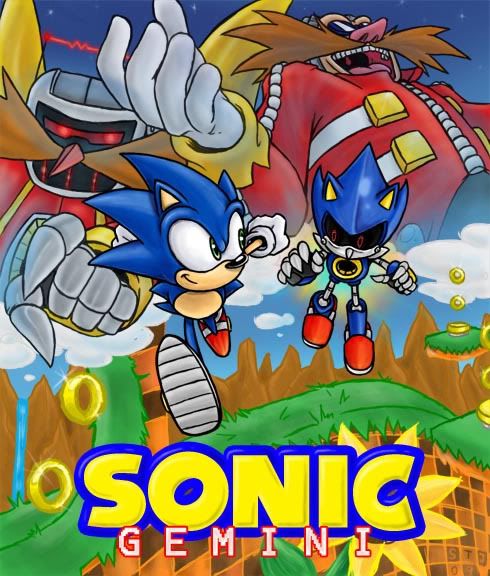 First off, an explanation of the game. Sonic Gemini is a 2D, Genesis-style game, though with a twist. You play as a tag-team of two characters, able to (and required to) switch between them at will to complete the game. The first character is of course Sonic, but the second may be a bit of a surprise... Metal Sonic. The two bitter rivals, through interesting circumstances, end up forming a strained but rather effective alliance as they try to stop the newest nefarious plan of Dr. Eggman and his newest creation (and Metal's replacement), EggRobo-2.
You can have a look at ER-2 here, thanks to SonicWarriorTJ.
And now, for the proof I suppose. The latest revision of our engine can be found at this link:
http://www.mediafire.com/?mlwggtblzkd
The engine is based on Damizean and RogueYoshi's 360 degree engine for Game Maker 7 Pro, but AeroGP and I have already begun making modifications, also with Damizean's help. The switching mechanism (which is pretty much the crux of the gameplay) is fully functional. The controls are as follows:
Z - Switch characters
X - [Sonic] Light speed dash (must be by rings)
X - [Metal] Projectile attack (you can charge and aim this attack)
C - Jump (press again with Metal and hold a direction to boost.)
A/S/D/F - (debug) Add bursts of speed.
Q - (debug) Rotate gravity 90 degrees.
Also, you can see (though incomplete) the Sonic and Metal sprites being made for our game.
Other than this engine, we have an ever-growing library of concept art (thanks of course to SonicWarriorTJ) and a lot of fleshed out, detailed design (though in textual form because I have absolutely zero artistic talent). I've already been working on a number of aspects of the game, from a detailed list of gimmicks for each Zone to the method of obtaining Chaos Emeralds to thrilling bonus stages to specific (and very unique!) boss mechanics to the evolution of the endgame. Mostly by myself. Also, we have recently begun spriting things, as you can see at the end of this post (just follow the links.)
Here's some example concept art: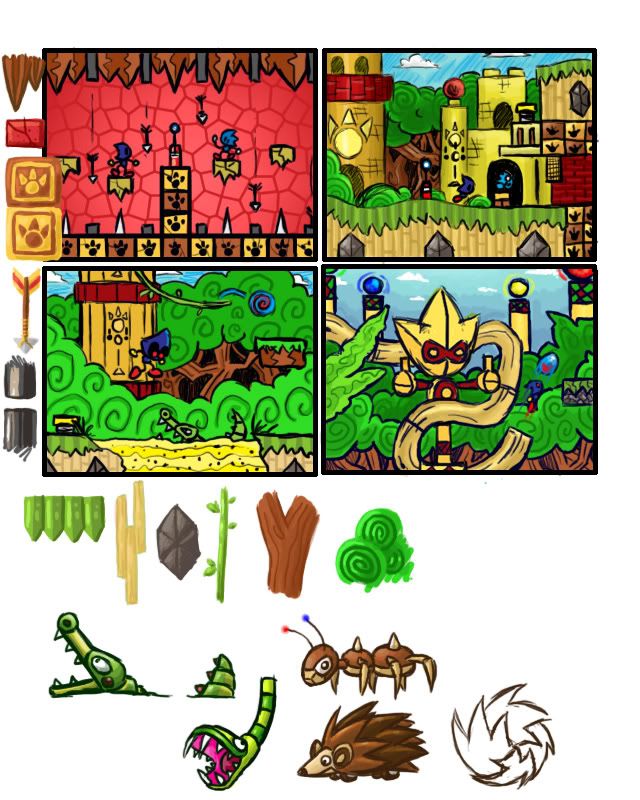 So . . . what I'm looking for is primarily two things.
First off, we could use a little more programming help, because I'm not the best GM7 coder (though I'm trying my best) and I don't want to dump everything on Aero, or he'll likely castrate me with a cheese grater.
NOTE! If you are able to do 3D stuff, we could DEFINITELY use your help creating a special stage.
Second off, and most importantly, we're looking for level artists,
especially people to create parallax backdrops.
I admit that the game is rather ambitious in the aspect of number of Zones, but with the right help I don't think this would be a problem.
Anyway . . . if you have any questions about the project please let me know. Feel free to contact me at any of my messengers, I'm often online.
I hope that some of you may take an interest in the project and help bring it to a reality!

Bill Shillito
~DM Ashura~
E-mail: DMAshura@gmail.com
AIM: AstralAshura
MSN: DMAshura@hotmail.com
YIM: DMAshuraWolf
P.S. Here, have some more concept art and such so you can see where we are.
http://i82.photobuck...amboosticks.png
http://img.photobuck...tomockup2-1.jpg
http://i82.photobuck...oodenTower3.png