Red Guy
I would like some feed back if you play this ok?
Current game version: V 0.9 \m/
GM Version: I did it with GM7 PRO
File Size : 4.28 MB for the RAR and 4.54 MB for the ZIP
Screen Resolution: 640 x 480
Changes Screen Resolution: Can turn to full-screen
Link RAR file:
Click Here To Download Red Guy.RAR
Link ZIP file:
Click Here To Download Red Guy.ZIP
Game type: Platform game.
Ok so basicly the game is this.
Your a red ninja named Kougan.
You kill enemies.
You walk on water.
You wall-jump.
You do all kind of ninja stuff.
You level up.
You upgrade your skills and stats.
Screenshots: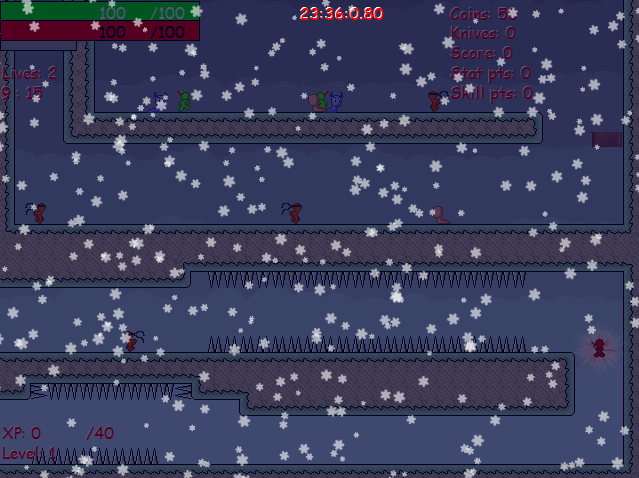 Thunder step
Shorts
It's raining
Color Change
Clothes color
Stats Upgrade system
To do stuff
*
Day-Night feauture(I already have it)
*New skills(I've got:
-Dragon's Breath(see sig)
-Ice wave(see picture)
-Thunder step(play the game to see it
-Haste(see picture)
-Rage
-Armor boost
-Hover)
*
More enemies
*Sounds(I have a few of them maybe you could give me some sounds and I'll give credit.)
*
Check points
*
Making an easier skill system where you will have to do combos like A+Down+X to make a skill
*Make new levels(I have 8)
*Make more clothes.(I have 2)
*
Make it easier to upgrade your stats.(HELP!!
)
*
GET PRO VERSION OF GAME MAKER 7 and I have GM8 Pro now to
GOT IT ON APRIL 5
*Background music
Updates:
V0.2:Fixed a little bug.
Added Day-Night system.
Added more stat points when level up.
You can now raise your attack and defence by using stat points.
Added rage skill press W.
V0.3:Fixed shop freeze.
Added more stats to improve.
Added a new enemy.
Added Armor boost skill(E)
Weakened the enemies.
V0.4:Fixed shop message
Added more knifes
Added more money dropped by monsters
V0.5: Fixed lots of glitches
Added 2 new monsters
Added external loading
Added some sounds
Now you have to learn skills before using them
Added 2 new levels
Added attack boost block
Added checkpoints
Added shorts(You have to find them)
V0.6(April 26 2009)
Text not over the character
Fixed more glitches(one was that if you hit a snail it would recover your HP instead of lowering it.)
New backgrounds and tiles
Now you can pick up a Shirt
New level
Added combo system that will allow me to have more skills
Example: Press A+X+D+down to do a skill....
As request, now you can skip the whole tutorial level!
Fixed a glitch that when you hit a worm it heals you instead of killing you.
Added more attack to monsters, cuz they hit you like with 5 damage and now they're stronger.
If the sword enemy hits you walking it gives you less damage than if he swings the sword.
V0.65(April 28 2009)
I added the markers(to hang from the corners) to the last level.
And if you see a gray bar under your MP/Chakra, it's just a bar that tells you how much you can hover,
because hovering skill is coming in the next VERSION!!!
I'm currently working on it and it's almost done!
V0.7(April 29 2009)
Fixed shirt and short sprite glitches(draw unexisting sprite thingy)
Hovering skill finished!!!!!XD
Remember that you can combine haste and hovering to get a faster hovering
2 New levels.
More realistic wall-sliding
Last level is almost impossible I beat it 2 out of 10!!! I warn you!!!!
V0.75(April 30 2009)
Fixed a tutorial unexisting sprite glitch....
V0.76(April 30 2009)
Glitch were you could hover from the start
V0.8(March 10 2009 \m/)
Fixed infinite dying glitch(I think)
A more cenvenient way to upgrade your skills(Press P)
Better sword attack animations
New level(I have 9 now!!XD)
V0.85(March 12 2009)
Fixed shop message
Updated game information
When you learn haste: You will see that it says press 3, but you have to press P instead.
V0.9
Customizable Cloth colors!!(Press O in-game)
Fixed some glitches
EASIER WALL JUMP AT URGENT REQUEST FROM EVERYONE!(i dont know if it is actually easier, try it and tell me)
IDEAS:
Making the player being able to choose different eyes, and mouth types.
Get some loopable music if u guys want
Make a boss(need help though)
If you want to help!
Background needed:
A castle background
A forest with snow(I have one by mws_1991)
Forests images(I have some by mws_1991)
Any other picture that would look cool.
Sprites:
Enemy sprites, like monsters......
Skills:
Make suggestions
Sounds:
Play the game to see the missing sounds XD
Bugs:Sometimes you cant hang.
Progress:(I cant put it in my sig cuz I get reported each time)
Sprites:
|||||||
|||
Sound:
|||||
|||||
Backgrounds:
||||||
||||
Tile sets:
||||||||
||
Skills:
|||||||
|||
Levels:
||||
||||||
Total:
||||
||||||
Edited by amberyoukai, 28 January 2010 - 02:41 AM.