SUPERSOLDAT OPEN SOURCE
main site:
wilbefast.com/showcase/supersoldat
indiedb:
http://www.indiedb.c...mes/supersoldat
Supersoldat is a "character driven" platform game - it's all about the cool things the character can do, and he can do a lot of cool things. The game is unconventional as platform games go because you have extremely limited control of your character's movement while he is airborne - in this sense it is similar to Prince of Persia or the Abe games: to jump you need a run up - likewise for a flying kick to be effective, you need to be
flying
!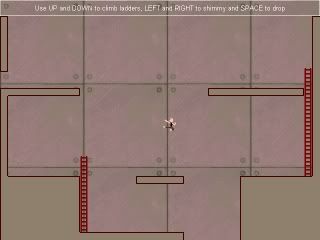 I started building this in my early days of Gamemaker use, but when I didn't know how to use any GML (so no AND or ORs), scripts, parents, particle systems and otherwise a good 90% of the program's potential - I learnt as I built it, and thanks to
working harder rather than smarter
I managed to create a game that a lot of people have really enjoyed (and been astounded by it's humble foundations), with loads of levels, good enemy AI, stealth, guns, explosives, martial arts attacks, water, switches, animated save point, menu, acid and many more awesome things, all done solely using DnD.
For more information see the game's
Original thread.
Links need to be redone now that WillHostForFood has crashed - head over to the game's new homepage for an exe download link, and PM me if you want the source too.
The reason I'm releasing this is that I've now moved on to using all the things I did without, and there's no going back really. I hope this helps those who are just starting to understand what goes into making a game of this complexity, bearing in mind that using GML I can probably rebuild this game better in a couple of months if that, compared to the 2 and a half years I worked on it originally (albeit on and off)
Use this for whatever you want, commerical or not, but

let me know if you do

- I'm curious to see what people do with this. Also, saying thanks would be nice.
Cheers,
William
Edited by Wilbo, 10 August 2010 - 09:45 AM.