War Hogs is a platform shooter in the style of Metal Slug/Contra. You play as one of the four Hogs, each with a unique weapon, blasting through enemy soldiers and machines.
Click to enlarge: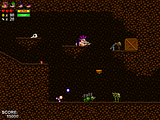 More screenshots available at:
My Site
GAMEPLAY VIDEO
(Thanks to AuthenticKaizen)
Category:
Platform shooter
File Size:
5.21 MB
GM Version:
GM8
Vista Compatible:
Yes
Changes Screen Resolution:
No (Not currently at least)
Download Links:
Newest Version 4/19/2010
Previous Version
Changes from last version:
Completely redesigned levels.
New weapon upgrade system.
New 'lives' system.
Addition of a new Hog; Warsow.
Each Hog now has a unique weapon.
Co-op mode. (If you play this, let me know of any bugs. I haven't been able to test this much myself)
Slight tweak in physics.
Slightly easier to beat. (Hopefully)
Future changes:
Swapping characters. (This was almost ready to be implemented in this update, but there are a lot of factors to consider before going live with it.)
More levels.
Re balance if feedback suggests it.
Versus mode.
More resolution/view options.
Tips:
While prone and on a jump-through ledge, hitting the JUMP button will drop you through the ledge.
You can angle your grenades' arcs/distance by going prone. (Down button)
Pick up hearts to regain health, if you die, you'll lose all your coins and weapon upgrades.
Pick up bomb boxes for an extra 10 grenades.
Collect as many coins as you can; they will grant you weapon upgrades.
Killing some enemies will grant you a Health Heart.
If an ally Hog has fallen, destroying a cargo crate can rescue them.
Edited by RCCarThief, 22 April 2010 - 10:07 PM.