ABOMINATION
Take on the role of a bizarre, half corpse, half machine... thing, as it searches for its lost teddy bear. Run, jump, climb up and slide down walls, rebound and hang from the roof. Always remember that Teddy = Good and Pain = Bad.
GM Version:
GM7
File Size:
1.51MB
Screen Resolution:
Fullscreen 640 x 480
Changes Screen Resolution:
no
This has been my main project for a while now - unlike Supersoldat* it's been planned out in advance and is written entirely in GML. We're now up to the second "Surface Demo" - the movement animations and engine and pretty much finished at this point, so I can move on to cooler stuff: there are 20 rooms now, all nicely decorated and with a gradual difficulty slope (new moves are introduced slowly) - the lack of direction is voluntary: I'm trying to make the controls intuitive!

*Supersoldat
to download the game, head over to its new homepage - from there you get get files from ModDB or TheGameHippo.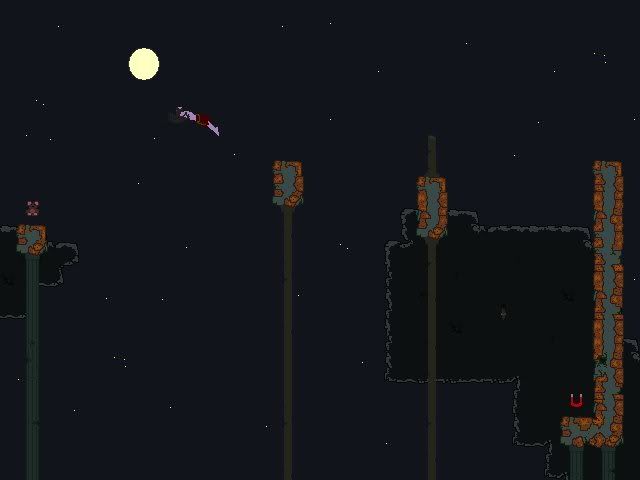 image2
image3
image4
This is basically an alpha test - no sound or music yet, these will come in time, so don't bother commenting on their absence. I need feedback on:
- Ground movement (friction, acceleration)
- Jumping (height, gravity)
- Spark/Wood Chip/Blood effects (original sparks were part of the sprite, not particles)
- Wall running (climb and slide speed)
- Roof climbing (speed, control scheme)
- Tiles, and embellishments (pillars, spikes, windows, etc)
- Surface mechanics
- Magnetise powerup (buff art, should it be permanent, last longer, etc)
- Animations added so far
- Bugs, crashes, etc
- Teddy
William
Edited by Wilbo, 03 February 2010 - 09:52 AM.