NUD
Download Here: http://www.wyrdysm.com/nudgame.php
This is my latest project, NUD is a tower defence game that will emphasize patterns in the way you build towers. The towers in the game, called NUDs, provide adjacent NUDs with various bonuses. This means that you need to come up with the optimum pattern of NUDs to maximise firepower. By emphasizing the way you build instead of relying on the usual formula of damage types vs armour types I hope to make the complexity of the game more transparent since no complexity is hidden in the creep stats or behaviour. The smooth undo/reload wave system also allows you to correct your mistakes painlessly instead of having to restart the level/game and waste time getting to the same level.
This is the first beta build that I've got up. I've just got all the technical aspects coming together so the gameplay isn't quite fleshed out yet.
Features:
- Full Undo/Checkpoint saving system that allows you to seamlessly go back and correct mistakes
- Adjacency bonuses. NUDs will provide combat bonuses to other adjacent NUDs.
- Mazing, you can build your NUDs to block the invaders and shape their path.
- Three NUDs to build, each with three levels of upgrades.
- WarpNUD. These NUDs move the invaders backward in time. Merely slowing them just ain't good enough.
- LancetNUD. These NUDs have a fixed facing, meaning that you have to carefully plan out where you put them
- Basic UI functionality, it still needs a lot of polish
Planned:
- Another three NUDs to build
- More levels, lots more levels
- Map/NUD editor and user content (the game is already setup to handle user content easily)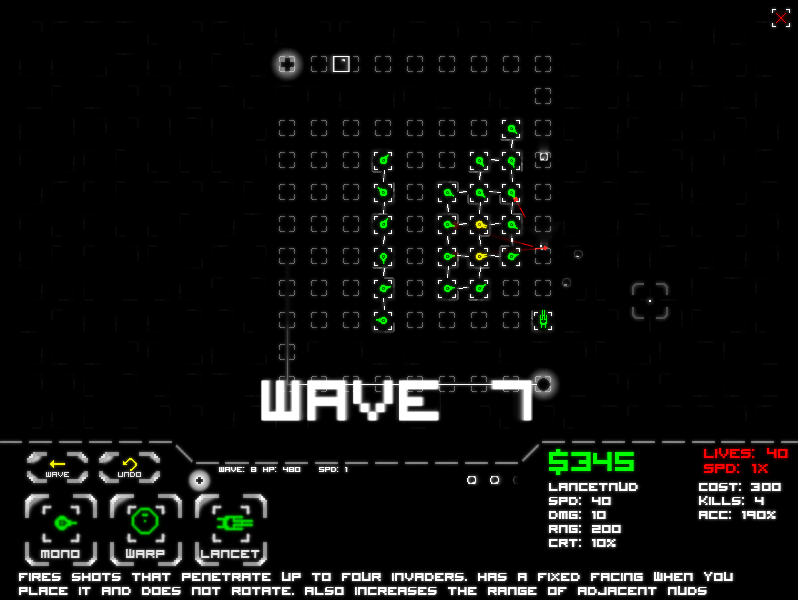 I'd love to get any comments/suggestions from you peeps, hope you enjoy the game.
Edited by th15, 28 March 2009 - 05:35 PM.