POCKET NINJA
This game is a platformer using ragdoll physics where you control a ninja and fight various types of enemies.
Currently I only have the first level which is a tournament type level that gets progressively harder as you defeat more enemies, in game you are meant to lose (and most of you will to the last opponent, slightly better fighting style) and when you do you'll go through levels, but you can win, it is not impossible. Also keep in mind this game is a vital stepping stone in applying everything here to my 10-piece ragdoll model (like 42 pixels tall all together, as opposed to this muuuuuch simpler 6 piece model which is only like 10 pixels tall lol) Also I plan on attempting to recode this in 3D in C++ using havok cause the ralationship between the angle based on a body parts rotation on it's center of mass and it's rotation from it's joint is what makes the standing ragdolls possible, which means it can be reapplied to 3D if the physics engines work similarly (which they do)
CONTROLS
W = jump/double jump
S = fast fall
A = move left
D = move right
Space = use magic (it's unlimited only restricted by cooldown peroids)
Down Arrow = kick
Up Arrow = headbutt
Left Arrow = punch w/ back arm
Right Arrow = punch w/ front arm
Just use the mouse to select your color and element on the first screen
NOTE
that I have replaced static animations used for attacks with a dynamic AI that computes the best attack based on the arrow key you pushed. So if you press kick the ninja will determine the best type of kick to do based on many variables such as his speed, position, direction, limb placement etc.
IMPORTANT, READ BEFORE PLAYING
This game is only sort of a fighting game, when going into combat you must think strategically and with certain principles of ninjutsu such as their in-and-out combat style, out manuever your oppnents, out smart them, single them out, the varying levels of difficulty and skill this game has potential for are endless so you will stand a much better chance until you get the hang of direct combat if you keep these things in mind.

WAAAAAYYY MORE IMPORTANT:
Dudes with swords dude... why would you even think of direct combat with a group of those, you're a ninja, not invincible, far from it, use ninjutsu, out manuever them, single them out of the group, try to get them before they even have a chance to strike, aerial kicks are great for suprise attacks
Screenies: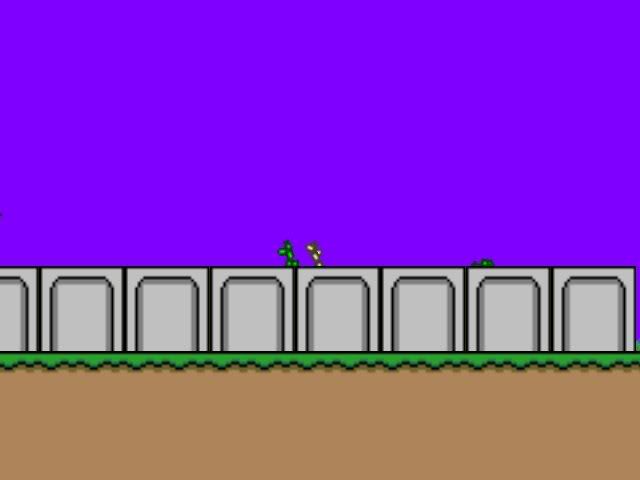 Wind Spell
More One-On-One Combat
Aerial Combat
Cave Oni
He knocked me flat
Nameless Flying Enemy
Yeah I didn't even come close to surviving this
THINGS TO COME
* The second to last update of the arena level with new enemies and a refined combat system
* As soon as my incredibly skilled graphics guys figure out this latest challenge, making 9 whole pixels (which is how many the head and feet have) look good, then we'll get new graphics
* Online functionality is one of the first things I plan on coding here cause this 6-piece model is incredibly simple to manipulate and work with and once I apply online function to it I can do it for any ragdoll model
* Sounds I guess, idk what kind of music belongs in here
PROGRESS
LEVELS: 5/20
ABILITIES: 9/26
ENEMIES: 12/20
ONLINE FUNCTIONALITY: 0% (lawl, I prob will end up waiting till the end for this as I'm just gonna use a p2p master/slave system rather than your standard client/server deal, I know how to safeguard it for hiccups so don't worry)
DOWNLOAD
Download Pocket Ninja
Anyways try it out, report bugs, give feedback etc
Also credit coderchris for gmphysics
Edited by Dark Xion, 10 January 2009 - 12:53 PM.