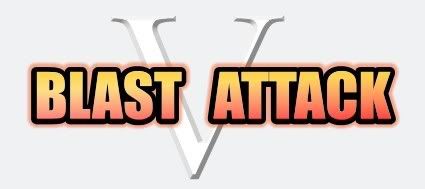 YoYoGames Download or Go here
Screenshot 1 - Screenshot 2 - Screenshot 3

Blast Attack V is the fifth chapter of the Blast Attack Series. It is also the first vertical-scrolling shooter of the series. Unlike its prequel, it is not in black and white and many elements from Blast Attack III (such as the Map Screen) are also used in this episode. It was made using Game Maker 7 Lite.
This time, the hero (his name is finally revealed) must defeat an evil spaceship-like robot, Skeltar, who put an alien race, the Trykons, under a mind-control spell using the Quasar Diamonds in order to take over the Universe.

The game has 9 levels. The eight one is actually a long fight in a space ship level, and the boss is actually the large ship itself. The game is also quite difficult, so I've decided to let the player start with 10 lives.

PS: For some reason, the Room Transition Effect during the Intro often disappears, but I don't know why. This also happens in Blast Attack III...
Edited by blak, 12 October 2008 - 05:37 PM.