Name:
Font Maker
Version:
3.0
Category:
Utility
Updated:
28/10/08
Vista-Compatible:
Yes
Download Link:
See below
Information:
See below
Screenshot: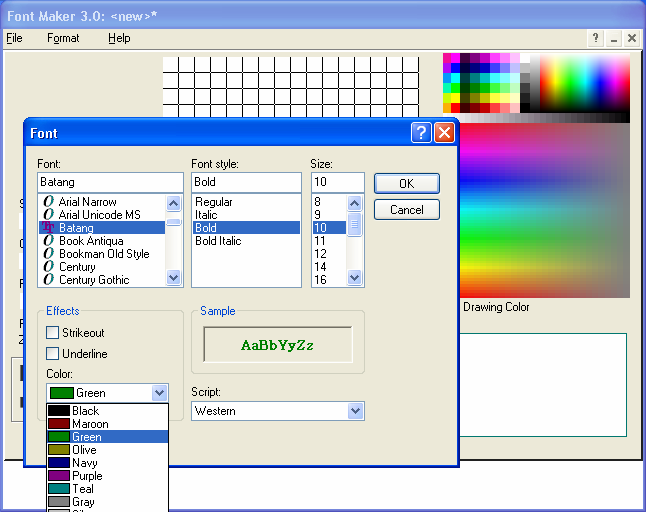 Information
This program allows you to create your very own, unique fonts to be used with Game Maker. You can open any font from your computer and edit it however you want it, then save it to be used with Game Maker.
NOTICE:
If you want me to continue working on Font Maker, go to my forums and into Community. You will find a poll in which will decide the future of Font Maker!
Features:
Version 3.0:
- Preview text with the current font
- Improved user interface
- Removes wasted resources to increase performance and speed
- Tool Tips
- Custom zoom
- Shortcut keys
- User "character edit" confirmation
- Program Status
Version 2.9:
- Easily add color gradients to your font base
- Completely new saving and loading engine
- New Loading and Saving formats
- Loading font bugs fixed
- Displays the character being edited
- Displays the font base and the size
Version 2.8:
- Colors, underline and strikeout now have effects on the font
- Copy and paste characters
- Reset Font Base (Restored)
- Advanced window caption
Version 2.6:
- Larger palette
- Use any font from your computer as a font base
- 'Create from Image' can load in any size image
- Menus (replaces Control Panel)
- Get color from drawing pad
Version 2.1:
- Completely new program and engine
- New and more user friendly interface
- Control Panel (replaced with Menus)
- Use any color(s)
- Create from Image (only 16x16 images)
- Reset Font Base
- Blend character
- Add shadow
- Add outline
- 4 Font bases
- Toggle the grid
- Real window grid color inverting
- Several bugs fixed
ORIGINAL VERSION: Version 1.0:
- Color in one-step (removed; wasn't liked very much)
- 1 Font base
- 16x zoomed pixels
- Draw your own characters
DOWNLOAD LINK:
Official Download
Mirror 1
Mirror 2
Bitsoft Forums
If you are a novice user who needs help using fonts with GM, download my LIB:

Get it here!
Support Font Maker by putting the code below in your sig:
[url="http://gmc.yoyogames.com/index.php?showtopic=388162"][img]http://i251.photobucket.com/albums/gg309/Bitsoft/sign.gif[/img][/url]
Edited by Bitsoft, 09 December 2008 - 03:05 PM.