<span style='font-size:21pt;line-height:100%'>HELL!
</span>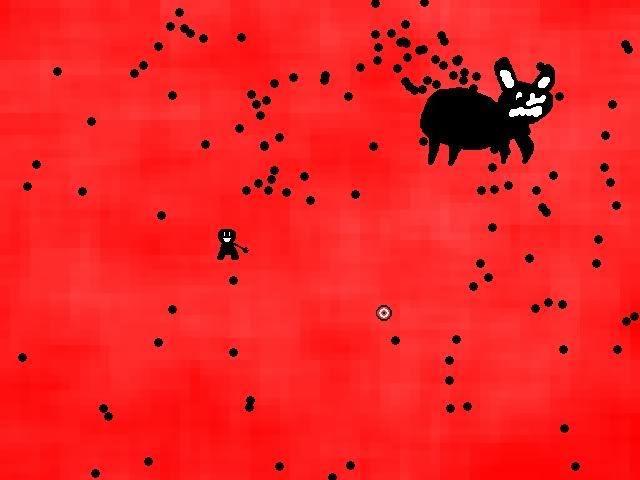 Welcome to Hell! Looks like Jimmy, the main character, has lived a sinful life and now must suffer for his wrong-doings in this new
bullet hell arena shooter
! You will realize within seconds of why it is called "Hell."
The point in the game is to just beat it. Short game it is, with only 16 rooms and 4 boss fights. I do not believe you will beat it without struggling though.
Listen to the sample I used in the first screen, for it is quite humorous. I took this from "I was a prisoner in your skull" by Swans. Everything else is made by me. Left click to go to the next room.
The gray objects(and the final bosses huge missles) can be destroyed, black bullets cannot.
Controls:



W,A,S,D- Move in the corresponding direction
Left Mouse Click- Shoot
Download:
Quite a large file this time around. Also it is a rar file.
Wrapping around the room and dark ambient version:
Enjoy kiddies! B)
Oh I forgot, gameplay video:
http://www.youtube.c...h?v=mpjKVPQENFM
Note: Am not responsible for seizures inflicted on your four year old sister.
Edited by TGOC, 02 January 2009 - 03:42 PM.